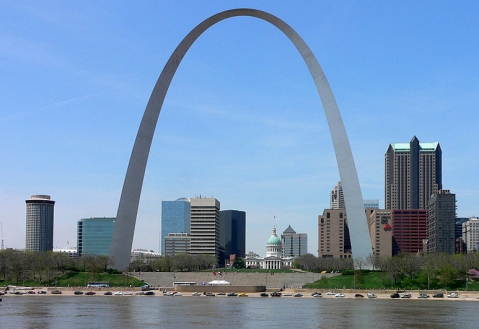 Friday and Saturday, I spoke at the Southwest Home Education Ministry (SHEM) Convention in Springfield, Missouri. Driving from Indiana to the convention, we passed the famous Gateway Arch, pictured above. This, of course, let us know that we were in the "Show Me State." I spoke at the SHEM convention last year, and it produced my favorite "talk" of the year – an entire session of nothing but questions from the teens. They didn't plan a session like that this year, but I still got the chance to answer a lot of questions, both after my talks and at my publisher's booth.
I gave a total of six talks over the course of the two-day convention. I talked to the parents about how homeschooling is the solution to our education problem and about how college tends to keep young adults active in the faith. This surprised a lot of the attendees, because they believed the "common wisdom" that students who go to college are likely to lose their faith. In fact, the research is very clear – students who do not go to college are significantly more likely to lose their faith. I also talked about how my wife and I came to adopt our daughter and what I did with her in homeschooling. That talk was in the last time slot for talks at the convention, and afterwards, one mother wrote on my Facebook page:
…I would like to thank you for sharing the story of your own family with us. Your talk was the perfect way to end the convention and it left me excited, and with renewed enthusiasm. Thank you.
I also gave two talks with Diana Waring. The first was about how arguing promotes learning, and the second was about what to do when your children's plans for their future are radically different from your plans for their future. Finally, I talked to the teens about how homeschool graduates are doing. In that talk, I go through some statistics about homeschool graduates and what they are doing now, and then I focus on specific homeschool graduates and how they are truly changing the world.
As usual, the most interesting part of the convention for me was answering questions. At my publisher's booth, for example, I had a long discussion about nuclear fusion with a homeschooled student who had all sorts of great questions. However, I want to focus on a question that occurred after one of the talks I gave with Diana Waring.
Continue reading "The SHEM Convention (and Why College Isn't the Right Option for Most Students)"