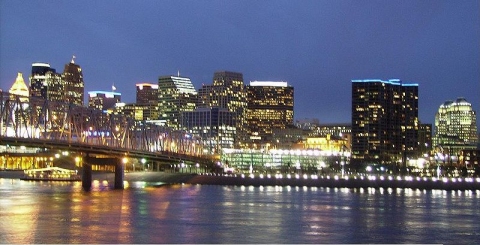 This past weekend was a busy one! I spoke at the Midwest Homeschool Convention in Cincinnati, Ohio on Thursday and Friday, and then I spoke at the Rideau Valley Home Educators' Association Conference in Ontario, Canada. This meant giving several talks on Thursday and Friday, flying out of Cincinnati on Friday night, arriving in Ottawa (the capital of Canada) very late, and then speaking at the convention bright and early on Saturday. It was obviously tiring, but it was well worth it! I met a lot of interesting people, had a great lunch with the teens in Canada, and got several very interesting questions. Since I really did the equivalent of two conventions this weekend, I will split my report into two articles. This one will be on the Midwest Homeschool Convention, and the next one will be about the Rideau Valley Home Educators' Association Conference.
In Cincinnati, I did three solo talks (Recent News in Creation Science, Teaching Elementary Science Using History as a Guide, The Bible: A Great Source of Modern Science) and two talks with Diana Waring (Arguing to Learn, I Didn't See That Coming). I enjoyed them all, but I have to admit that I enjoyed the ones with Diana Waring the most. I really like the "back and forth" that happens with a co-speaker, and it is awesome for the audience to get two perspectives on both the topic at hand and their questions.
The convention itself is one of the largest in the nation, so not only were my talks well-attended, but I spent a lot of time speaking with individuals at the Berean Builders booth. Not surprisingly, many people thought that I own Berean Builders, but I do not. I sold the publishing company I used to own specifically because I am not a businessman and do not enjoy running a business. I am a scientist, teacher, and writer, and I wanted to spend the majority of time concentrating on those activities. Thus, when I started writing my new elementary science series, I did not want to publish it. I shopped it around to a few publishers and settled on Berean Builders. I think it is a wonderful publisher with the right goals for Christian Education, but I do not own it. I am simply an author it publishes.
I got a lot of great questions both at my publisher's booth and at the end of my talks. Let me discuss one of each.