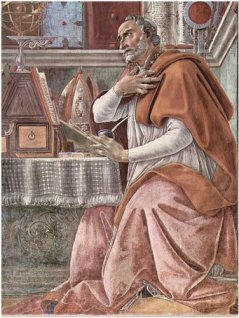 I was speaking to a group of people in Portland, Indiana last night. As always, I took questions from the audience, and after the session, people came up and asked me more questions. In this individual question/answer session, one man said that he had read The God Delusion by Richard Dawkins, and he was wondering if I had any insight into something Dawkins claimed in the fourth chapter, "Why There Almost Certainly Is No God." The man didn't have the book with him, but he said that Dawkins claimed that St. Augustine (properly pronounced uh gus' tin) encouraged people to avoid learning about the natural world, as gaps in our knowledge of the natural world glorify God. In other words, if we were to understand everything about the natural world, there would be nothing left to attribute to the Hand of God.
I read The God Delusion a few years ago, and I didn't remember Dawkins making such a statement. I told the man that I am neither a philosopher nor a historian, but I can't imagine St. Augustine saying any such thing. Augustine was very concerned about all manner of learning, and although he rarely wrote about anything related to science, I couldn't imagine him saying that we shouldn't learn about the natural world. I promised the man that I would look into it and write him back.
This morning, I looked around in Chapter 4 of my paperback edition of The God Delusion and found the portion to which the man was referring. In a subsection of the chapter entitled, "The Worship of Gaps," Dawkins discusses Intelligent Design. He says that it basically promotes scientific laziness, because as soon as you attribute something to the Hand of God, there is nothing more you can learn about it. He then goes even further and says that an advocate of Intelligent Design would actually tell scientists to stop learning about something that is amazingly complex, so it can always be attributed to God. He then says:1
St Augustine said it quite openly: 'There is another form of temptation, even more fraught with danger. This is the disease of curiosity. It is this which drives us to try and discover the secrets of nature, those secrets which are beyond our understanding, which can avail us nothing and which man should not wish to learn.' (quoted in Freeman 2002)
The reference he gives (Freeman 2002) is The Closing of the Western Mind by Charles Freeman. Like his discussion of Intelligent Design before it, this quote is 100% false.