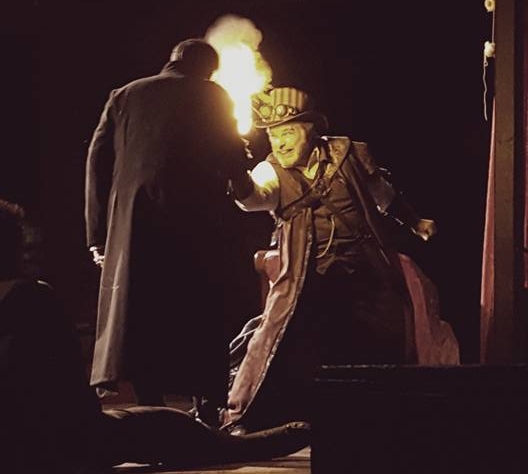 This post is a bit different from the standard fare you find on my blog, but it is about two of my passions: acting and chemistry. As longtime readers are probably aware, acting is a hobby of mine. I write Christian Dramas, most of which are best characterized as "skits," and I also act in them. In addition, I do some community theater. Most of it is done at Anderson's Mainstage Theatre as well as a new local group, The Alley Theatre. However, I have done some shows with other groups. In 2006, for example, I played Maurice (Belle's Father) in Indianapolis Civic Theatre's production of Beauty and the Beast. You can see a couple of scenes from the show here and here. The young lady who played Belle is one of the best actresses with whom I have ever worked, and I have worked with a lot of actresses!
In any event, I recently played the role of Abraham Van Helsing in Anderson Mainstage Theatre's production of Dracula. The script is a relatively new one, but I think it is the best one I have seen. In the scene where Van Helsing confronts Dracula with a crucifix, the script says that Dracula is suppose to touch the crucifix, and it is supposed to briefly catch fire. I asked the director if she wanted that effect, and she said, "Yes, as long as it doesn't look stupid." I took that as a challenge.
Based on my past experience in the theater, I know of a substance called "flash cotton," and based on my knowledge of chemistry, I understand that it mostly consists of a chemical called nitrocellulose. I had learned to make it for another show I was in years and years ago, so rather than buying it, I made it myself. The recipe is really simple, as long as you can get the ingredients.
Continue reading "A Chemistry-Based Special Effect for Stage"