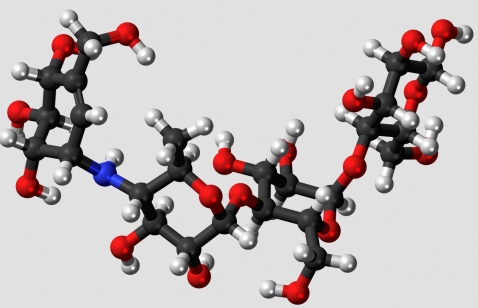 Approximately a year ago, I wrote about the bacteria in human breast milk. While that may sound like a bad thing, it is actually a very good thing. Over the years, scientists have begun to realize just how important the bacteria that live in and on our bodies are (see here, here, here, here, and here), and the bacteria in breast milk allow an infant to be populated with these beneficial microbes as early as possible. Not surprisingly, as scientists have continued to study breast milk, they have been amazed at just how much of it is devoted to establishing a good relationship between these bacteria and the infant who is consuming the milk.
For example, research over the years has shown that human breast milk contains chemicals called oligosaccharides. These molecules, such as the one pictured above, contain a small number (usually 3-9) simple sugars strung together. Because oligosaccharides are composed of sugars, you might think they are there to feed the baby who is consuming the milk, but that's not correct. The baby doesn't have the enzymes necessary to digest them. So what are they there for? According to a review article in Science News:1
These oligosaccharides serve as sustenance for an elite class of microbes known to promote a healthy gut, while less desirable bacteria lack the machinery needed to digest them.
In the end, then, breast milk doesn't just give a baby the bacteria he or she needs. It also includes nutrition that can be used only by those bacteria, so as to encourage them to stay with the baby! Indeed, this was recently demonstrated in a study in which the authors spiked either infant formula or bottled breast milk with two strains of beneficial bacteria. After observing the premature babies who received the concoctions for several weeks, they found that the ones who had been feed bacteria-spiked formula did not have nearly as many of the beneficial microbes in their intestines as those who had been feed bacteria-spiked breast milk.2