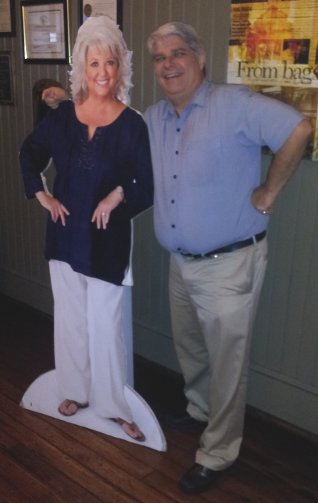 On Tuesday, I spoke in Savannah, Georgia at the Family Education for Christ yearly kickoff event, which marks the beginning of the academic year for many homeschoolers. I spoke at the same event about six years ago and was excited to come back this year. The city of Savannah is gorgeous and steeped in history, and the food is amazing.
Speaking of food, before the event, my wonderful hosts took me to The Lady and Sons, which is Paula Deen's restaurant. The food was nothing short of incredible. It started with hoecakes and garlic/cheese biscuits. It was followed by pulled pork, which had probably the sweetest barbeque sauce I have ever tasted. I was then "forced" to eat dessert, which was banana pudding mixed with vanilla wafers. As you can see from the picture, I am no stranger to eating a lot of food, but this meal filled me to the brim!
After lunch, we took a driving tour of the city. The historic section is filled with squares that hold plant life and monuments to famous people or events. What makes the city gorgeous, however, are the trees that fill the squares and line the streets. Many of them are covered with Spanish moss, an epiphytic plant. This means it grows on trees but does not act as a parasite. Instead, it just gathers water from the air and from rainfall. The moss hangs down from the trees, producing the illusion that you are in a deep, medieval forest, even though you are in the heart of a city.