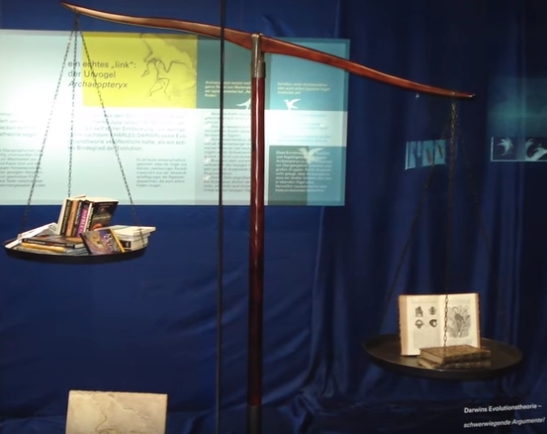 In 2009, one of the largest German events celebrating the 150th anniversary of Darwin's book, On the Origin of Species, was headed up by Dr. Günter Bechly, a world-renowned paleontologist with an incredibly impressive list of original research published in the peer-reviewed literature. At the time, he was the curator of the Stuttgart Museum of Natural History, and he wanted to show, in no uncertain terms, that there is absolutely no scientific dispute about origins. As a result, one of the displays in his museum's celebratory exhibit (shown above) was a scale with creationist and intelligent design resources on one side and Darwin's book on the other. Darwin's single book tipped the scale, indicating that the weight of the scientific evidence was in evolution's favor.
There was only one small problem. Dr. Bechly had not actually investigated any of the resources that were on the "light" side of the scale. Oh sure, he had read other evolutionists' views on those resources, but he had not actually investigated them himself. He decided to do so, and he was surprised by what he found. As he explains in the documentary Revolutionary: Michael Behe and the Mystery of Molecular Machines:
…and what I recognized to my surprise is that the arguments I found in those books were totally different from what I heard either from colleagues or when you watch Youtube videos where the discussion is around intelligent design versus NeoDarwinian evolution. And I had the impression on one side that those people are mistreated – their position is misrepresented and on the other hand that these arguments are not really receiving an appropriate response. And they have merit.
He ended up being scientifically convinced that Intelligent Design is the better explanation for the amazing world he had been studying his entire career, and he made that decision public in 2015. Then he faced a firestorm.
Continue reading "Another Atheist Comes to Christ Because of Science"