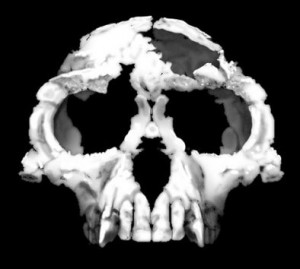 In a recent issue of Science, there are a couple of short articles (called "Technical Comments") about Ardipithecus ramidus. If you don't remember this fossil, nicknamed "Ardi," it was originally discussed in an October 2009 issue of the same journal.1 It was a collection of severely-crushed and poorly-fossilized remains that took more than 15 years to analyze. This analysis included a digital reconstruction of large portions of the skeleton. The skull pictured here, for example, is a digital reconstruction based on the crushed bones that were found.
At the time, Ardi was hailed as an amazingly important discovery, because the authors of the study claimed that the fossil's features clearly showed it was a part of the supposed evolutionary lineage between an apelike ancestor and modern man. Indeed, Science called it the "breakthrough of the year" and said:
Even the earliest members of her species, Australopithecus afarensis, lived millions of years after the last common ancestor we shared with chimpanzees. The first act of the human story was still missing. Now comes Ardi, a 4.4-million-year-old female who shines bright new light on an obscure time in our past.2
The short articles I mentioned above disagree with some of the conclusions of the original studies on Ardi.