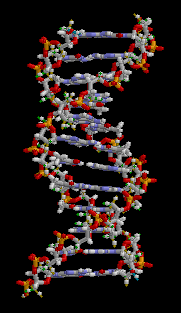 As I mentioned previously, Dr. Peter Borger has an amazing series of articles on genetics over at Creation Ministries International's website. He is putting together a very impressive interpretation of the genome based on what has been learned about genetics over the past few years. He starts his series with a discussion of genetic redundancy, which is truly incredible.
The article begins by discussing something that has been known for quite some time: It is possible to disable a gene so that it no longer produces the protein it is supposed to produce. This technique is called gene knockout, because it as if the gene has been "knocked out" of the organism's genome. The organism is referred to as a knockout organism or just a knockout.
Why would you study a knockout organism? Well, imagine that you have identified a gene but don't really know what it does for the organism. If you create a version of the organism with that gene knocked out, any negative effects that you see will most likely be the result of the missing gene, so that will give you some idea of what the gene does.
This is a great experimental procedure that has produced a lot of genetic understanding over the years. However, it has also produced a very interesting result: often a knockout organism is not significantly different from the standard (usually called wild-type) organism. In other words, some genes can be knocked out of an organism with little or no effect on the organism itself.
This might sound surprising to someone who is not familiar with the genetics literature, but it really isn't. In fact, geneticists thought they had an explanation for this interesting result…until experiments over the past decade or so really upset the applecart.