The history of evolution is filled with great pronouncements about how a new fossil find finally provides the "missing link" in some evolutionary transition. Of course, such missing links are generally found to be hoaxes or misinterpretations. Interestingly enough, however, the publicity related to the original announcement is generally significantly greater than the publicity of the fact that the original announcement was wrong. Darwinius masillae is probably the most egregious example of this general trend.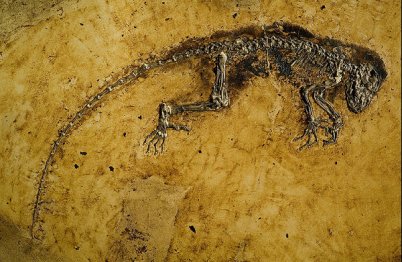 Nicknamed "Ida," this fossil is exceptionally well preserved and, according to evolutionary timescales (which are scientifically irresponsible), it is supposed to be 47 million years old. As the Times Online says:
It was billed as one of the most important fossil finds in history, a "missing link" that would challenge everything we knew about human evolution.
Indeed, this fossil was considered so important that it was the sole subject of a Sir David Attenborough documentary. In that documentary Sir David said:
This little creature is going to show us our connection with the rest of all mammals. The link they would have said until now is missing, is no longer missing.
As is the case with most evolutionary hype, it turns out that all of this nonsense is just completely wrong.
As reported in Science Daily, a new article in the Journal of Human Evolution says:
Many lines of evidence indicate that Darwinius has nothing at all to do with human evolution.
The mammalian order Primates is divided into two orders: Strepsirrhini and Haplorrhini. Humans, tarsiers, monkeys, and apes are a part of the suborder Haplorrhini, while lemurs, lorises, and other similar mammals are part of the suborder Strepsirrhini. The article in the Journal of Human Evolution uses multiple lines of evidence to show that Darwinius masillae belongs in suborder Strepsirrhini. This, of course, puts it far from any relationship to humans.
So, like many other fossils, this supposed "missing link" is not a link at all. However, it is still an incredibly well-preserved fossil. Doesn't that make it important? Once again, according to one of the authors of the study:
What's amazing about Darwinius is, despite the fact that it's nearly complete, it tells us very little that we didn't already know from fossils of closely related species.
So this fossil, which was supposed to be one of the "most important fossil finds in history" actually adds very little to our understanding of, well, anything. Do you think Sir David Attenborough is rushing to make a new documentary telling this to the world? I rather doubt it.
Because many evolutionists do not operate scientifically, they often make grand claims that are based on little but their fervent faith in evolution. However, after so many examples of these grand claims being demonstrated false, you'd think they might learn to be at least a bit more circumspect. I guess some evolutionists' religious fervor just knows no bounds!