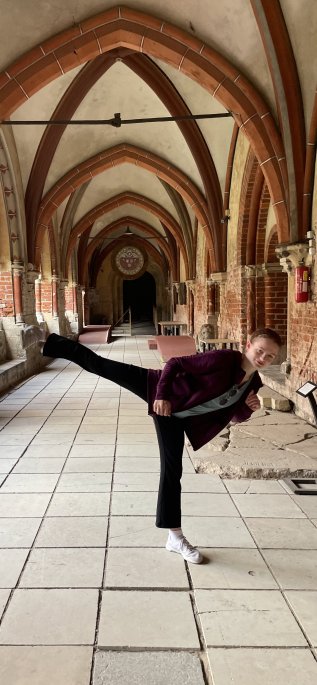 It has been a while since I updated this part of my blog, but I really want to add some more material, since I have had the privilege of meeting many incredible homeschooled students over the years. One such student is Annie Lee Keller, who was in two of my online courses (honors chemistry and honors physics).
Because she was one of my online students, she sent me her graduation announcement at the end of the 2022 school year, and I was intrigued to learn that she was earning two degrees at the same time: her high school degree and her associate degree in digital media from Marantha Baptist University. She uses the talents she developed while earning that degree to produce unique gifts that she sells at her online store. Her work is so impressive that the printing service she uses to produce her gifts selected her as one of three people to travel to Riga, Latvia (all expenses paid) to attend their largest trade show!
How did she manage to earn two degrees at once and be so successful with her online store? She has been homeschooled since the very beginning of her education, and when she reached high school, her mother suggested that she work toward a post-high-school degree in addition to her high school degree. Since she already did photography for her parents' business (Taekwondo instruction) and her church, she decided to study digital media. She took her classes online, and homeschooling allowed her to flex her schedule so that she could easily fit the demands of those classes into the rest of her education. After earning her associate degree, she is currently working on a bachelor's degree in business (online once again) and hopes to get a master's in creation apologetics. She is also the ministry assistant at her local church.
What does she want to do with all this experience and education? She thinks she might work in the graphic design department at an apologetics ministry. However, she also has a black belt in Taekwondo and is an instructor. In fact, there is a charter school near her where Taekwondo is a part of the curriculum, and she teaches (along with her parents) in some of those classes. Thus, she could also continue in the family business. The point is that homeschooling has given her lots of options, a lot more than she would have had if she'd been a public- or private-school student. She says:
Homeschooling gave me the ability to learn and grow in the areas that I am passionate about, and I got to do it in my own style.
That is, of course, one of the most important strengths of homeschooling. Students are not given a "one-size fits all" education. Instead, their education can be tailored to them so that they can, indeed, learn in their own style.
What's an example of learning in her own style? Sometimes, she would stack all her homeschooling work for the week into a couple of days so that she could spend the rest of the week concentrating on her digital media work or spending time with her friends. In fact, she thinks homeschooling allowed her to have more of a social life than she would have otherwise had, partly because of its flexibility, and partly because she didn't have to worry about completing busy work.
I asked her what she would say to students who are being homeschooled, and if you knew Annie, you would understand that this statement really encapsulates her approach to life:
Treat each day as unique, because every day you learn something new and something different…each day is special.
She then hastened to add this wise tidbit:
Don't leave God out of the equation. He needs to be the first variable. He needs to be the first thing you think about when you get out of bed. He needs to be first.
I couldn't agree more.