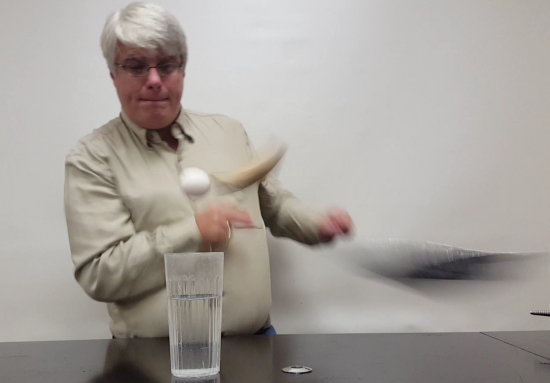 My publisher asked me to record an example experiment from the third book in my elementary science series, Science in the Scientific Revolution. This one is about inertia, and I cover the topic when I cover Sir Isaac Newton. It's a potentially messy experiment, because in your desire to hit the pie pan hard, you might end up hitting the glass of water, knocking it over. Also, if you don't hit the pie pan hard enough, you might end up just upsetting the system, resulting in a broken egg. However, if you can do the experiment correctly, it's pretty impressive.
The concept of inertia was an important step forward in our understanding of motion. Up until the 14th century, most natural philosophers (that's what scientists were called back then) believed what Aristotle taught: objects have a natural tendency to be at rest. Thus, unless something kept exerting a force on an object, an object in motion would eventually come to rest. This is consistent with our experiences. After all, if I kick a rock, it bounces down the sidewalk for a while, but it eventually comes to a halt. Even though Aristotle's teaching is consistent with our experiences, it is nevertheless quite wrong.
In the 14th century, Jean Buridan (a natural philosopher whose work I discuss in Science in the Ancient World) questioned Aristotle's teaching on the matter, indicating it wasn't consistent with at least some observations. However, it took the work of Galileo Galilei to show that there was something seriously wrong with the idea. He ended up correcting Aristotle a bit. He said that at least when it came to motion on a level surface, objects will continue to move the way they have been moving, until they are disturbed.
Sir Isaac Newton ended up generalizing this principle, producing his First Law of Motion:
A body at rest or in motion will stay at rest or in motion until acted on by an outside force.
When you kick a rock, it starts bouncing down the sidewalk, and it would continue to do that forever if it weren't for the outside force of friction. That force slows the rock down until it comes to rest. So the rock doesn't come to a halt because its natural state is to be at rest. The rock has no natural state. It is simply responding to the forces acting on it. A kick gives it some motion in the direction of the kick, but friction opposes that motion, eventually forcing the rock to a halt.
One of the most spectacular confirmations of Newton's First Law of Motion can be seen in the Voyager spacecraft. Despite the fact that neither of them has been been receiving any power from their engines for nearly 40 years now, they are still steadily moving away from the earth. Their engines gave them some velocity in that direction, and since there is almost no friction in space and they are far from the gravitational fields of the planets, they are not being acted on by a significant outside force. As a result, they have continued to move away from earth to the point where one of them is outside our solar system and in interstellar space.