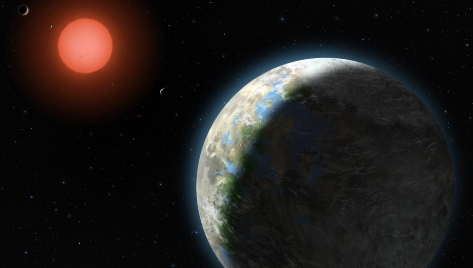 Gliese 581 is a star that exists about 20 light years away from earth. It became important in the astronomy community back in 2005, when a planet (dubbed Gliese 581b) was detected orbiting it.1 Two years later, two more planets (dubbed Gliese 581c and Gliese 581d) were found there.2 Two years after that, a fourth planet (Gliese 581e) was found.3 All of that was interesting, but it didn't catch much attention outside of the astronomy community.
Then something amazing happened. A year later, Dr. Steven Vogt and his colleagues found two more planets (Gliese 581f and Gliese 581g) orbiting the star. The amazing thing is that one of those planets (Gliese 581g) was found in the habitable zone of the star! What does that mean? If a planet is too close to its star, it will get very hot. If it is too far from its star, it will remain cold. Life as we know it requires a fairly narrow range of temperatures to exist, so if a planet is to host life, it can't be too close or too far from its star. It must be in a position that is "just right," and we call that position the habitable zone of the star. Gliese 581g was in that zone, and even more amazing, it had a mass that was only 3.1 times as much as earth's mass!4
What did that mean? It meant that Vogt and his colleagues had found the first planet that might be enough like earth to support life. Since it was only 3 times as massive as earth, it was expected to be rocky (like earth), and since it was in the habitable zone, it could have the right temperature to support life. Of course, there are lots of other requirements for a planet to be able to support life as we know it, but that was ignored in all the excitement. NASA released an image (shown above) of what the four inner planets orbiting the Gliese 581 might look like. Notice that the most prominent planet is Gliese 581g, and notice how similar it looks to earth. Dr. Vogt said:
Personally, given the ubiquity and propensity of life to flourish wherever it can, I would say, my own personal feeling is that the chances of life on this planet are 100 percent.
I blogged about this planet back in 2010, noting that it might not even exist. Well, it turns out that the latest, in-depth study of Gliese 581 confirms that Gliese 581g, along with Gliese 581d and Gliese 581f, don't exist.
Paul Robertson and his colleagues have spent a lot of time trying to analyze all the data from Gliese 581 and use it to determine exactly what planets are orbiting the star. One thing their analysis takes into account is the activity of the star, which obviously affects the data we receive from it. They say that when this factor is taken into account, only three planets remain in the system: Gliese 581b, Gliese 581c, and Gliese 581e. The other planets, including the one that generated so much excitement, don't exist.5 The title of their paper says it all:
Stellar activity masquerading as planets in the habitable zone of the M dwarf Gliese 581
Why am I writing about this? There are two reasons. First, I am sure the news that this planet doesn't exist won't get nearly as much attention as its supposed discovery. I am hoping that in some small way, this blog post will help correct that problem.
The second reason is to point out how overblown the reaction to the supposed discovery was in the first place. Even if Gliese 581g did exist, the fact that it is in the habitable zone of its star doesn't tell us much at all about the planet. In addition, the analysis that was done couldn't even determine whether or not the planet was rocky. It could have been a gas planet, which can't support life as we know it. Nevertheless, in their zeal to promote the idea that there is nothing special about our planet, NASA drew an absurd diagram of the supposed planet, and Dr. Vogt (who is clearly a good scientist) went off the deep end, claiming 100% certainty that there was life on this nonexistent planet.
Whether or not you want to believe it, earth clearly is a special planet. It has all sorts of characteristics that make it an oasis for life. Given what we know about planets so far, it is clearly special. Is is possible another planet like earth might be found one day? Most certainly. Is it possible that this planet might support life? Of course. However, the scientific way to approach this issue is to make conclusions based on the data we have. That's not what was done in the case of Gliese 581g, and unfortunately, I suspect the science media (and many in the astronomy community) will learn nothing from this fiasco.
REFERENCES
1. X. Bonfils, T. Forveille, X. Delfosse, S. Udry, M. Mayor, C. Perrier, F. Bouchy, F. Pepe, D. Queloz, and J. L. Bertaux, "The HARPS search for southern extra-solar planets VI. A Neptune-mass planet around the nearby M dwarf Gl 581, Astronomy and Astrophysics Letters 443L15-L18, doi:10.1051/0004-6361:200500193, 2005
Return to Text
2. S. Udry, X. Bonfils, X. Delfosse, T. Forveille, M. Mayor, C. Perrier, F. Bouchy, C. Lovis, F. Pepe, D. Queloz, and J. L. Bertaux, "The HARPS search for southern extra-solar planets XI. Super-Earths (5 and 8 M) in a 3-planet system, Astronomy and Astrophysics Letters 469L43-L47, doi:10.1051/0004-6361:20077612, 2007
Return to Text
3. M. Mayor, X. Bonfils, T. Forveille, X. Delfosse, S. Udry, C. Perrier, J. L. Bertaux, H. Beust, F. Bouchy, C. Lovis, F. Pepe, D. Queloz, and N.C. Santos, "The HARPS search for southern extra-solar planets XVIII. An Earth-mass planet in the GJ 581 planetary system, Astronomy and Astrophysics 507487-494, doi:10.1051/0004-6361/200912172, 2009
Return to Text
3. M. Mayor, X. Bonfils, T. Forveille, X. Delfosse, S. Udry, C. Perrier, J. L. Bertaux, H. Beust, F. Bouchy, C. Lovis, F. Pepe, D. Queloz, and N.C. Santos, "The HARPS search for southern extra-solar planets XVIII. An Earth-mass planet in the GJ 581 planetary system, Astronomy and Astrophysics 507487-494, doi:10.1051/0004-6361/200912172, 2009
Return to Text
4. Vogt, S.S., Butler, R.P., Rivera, E.J., Haghighipour, N., Henry, G.W. & Williamson, M.H., "The Lick-Carnegie Exoplanet Survey: A 3.1 M Earth Planet in the Habitable Zone of the Nearby M3V Star Gliese 581," The Astrophysical Journal 723:954-965, doi:10.1088/0004-637X/723/1/954, 2010
Return to Text
5. Paul Robertson, Suvrath Mahadevan, Michael Endl, and Arpita Roy, "Stellar activity masquerading as planets in the habitable zone of the M dwarf Gliese 581," Science doi:10.1126/science.1253253, 2014
Return to Text