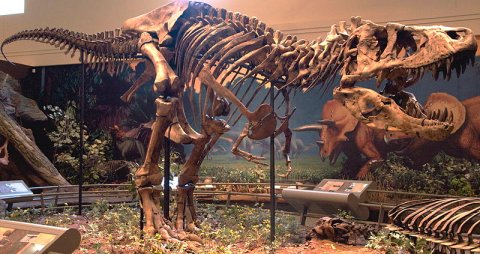 In 2005, Dr. Mary Schweitzer shocked the scientific world by reporting soft tissue in a Tyrannosaurus rex fossil that is supposed to be 68 million years old.1 While many scientists who are more interested in their preconceptions than they are in the data tried to dismiss her findings, several other examples of soft tissue in fossils that are thought to be millions of years old have been found (see here, here, here, here, and here). In the end, it has become nearly impossible for a thoughtful scientist to conclude anything other than the fact that there is soft tissue present in some fossils which are thought to be millions of years old.
Now, for someone who truly believes in an ancient earth, it's very hard to explain how soft tissue can remain in a fossil that has been in the ground for millions of years. Even for a young-earth creationist like myself, it is still a difficult thing to understand. Soft tissue tends to decay in a matter of days or weeks. From a chemical point of view, it is hard to understand how it can stay soft for even a few years, much less hundreds, thousands, or even millions of years. Fortunately, Dr. Schweitzer has continued her studies on soft tissue in dinosaur fossils, and she has found at least one chemical mechanism by which soft tissue can be preserved for significantly longer than anyone expected.2
She and her colleagues began by examining soft tissue from her T. rex fossil as well as a Brachylophosaurus canadensis fossil. While the T. rex fossil is supposed to be about 68 million years old, the B. canadensis is supposed to be about 76 million years old. Nevertheless, under a transmission electron microscope, both are seen to harbor soft vessels that are probably blood vessels. Interestingly enough, however, the vessels have tiny particles of iron embedded in them.
Where did the iron come from? It came from the dinosaurs' blood. When the dinosaurs were alive, the iron was tightly-bound to a blood protein known as hemoglobin. Once death occurred, however, the hemoglobin decayed, releasing the iron and allowing it to mix with the tissues. How does this help with preservation? Well, most biological molecules are polymers, which means they are long chains of repeating chemical units. Proteins, for example, are long chains of smaller chemicals called amino acids. It is well known that iron, especially when it has the chance to react with oxygen, can cause polymers to link together in a process called cross-linking. When polymers link together like that, they are more resistant to decay.
Since Schweitzer and her colleagues saw iron particles embedded in the soft tissue of their dinosaur specimens, they thought that perhaps the iron was cross-linking the biomolecules, and that's at least part of how the soft tissue was being preserved. They decided to test this hypothesis by taking ostrich blood vessels and soaking them in one of three liquids: a concentrated solution of blood whose red blood cells had been destroyed, a pH-controlled saltwater solution, or sterile distilled water. They found that while the blood vessels soaked in distilled water and salt water degraded significantly in a matter of 3 days, the ones that had been soaked in the blood concentrate were intact after sitting at room temperature for 2 years! Obviously, then, something from the blood was able to preserve the vessels.
Interestingly enough, they stored some of the blood-soaked vessels in a normal environment, and they stored others in an environment without oxygen. They found that while both sets of blood-soaked vessels were preserved, the ones that had been stored in a normal environment were better preserved than those that were stored under oxygen-free conditions. This further supports their hypothesis that iron is the key to the preservation process, because it is well-known that iron produces cross-linking in the presence of oxygen better than it does without oxygen. The authors conclude:
The HB–oxygen interactions investigated here explain both the association of iron with many exceptionally preserved fossils and the enhanced preservation of tissues, cells and molecules over deep time. Iron and oxygen chemistry, at the centre of bioenergetics and terrestrial life, are now seen to play key roles in the preservation of biomaterials after death. [Note: HB is an abbreviation for hemoglobin.]
Have Schweitzer and her colleagues explained how soft tissue can be preserved in fossils that are millions of years old? If you read popular sources, you certainly get that impression. For example, here are three headlines for articles that discuss their study:
Mysteriously Intact T. Rex Tissue Finally Explained
Iron Preserves Ancient Dinosaur Soft Tissue in Fossils
Controversial T. Rex Soft Tissue Discovery Finally Has An Explanation
Of course, if you understand the study, you recognize that the press has completely mangled the science. While the study represents an excellent first step in understanding how soft tissue can be found in fossils, it doesn't solve the mystery of how it could be preserved for millions of years.
There are at least three things that indicate lots more research has to be done on this issue:
(1) The ostrich blood vessels were preserved for "only" two years. While this is more than 240 times longer than what happens under normal conditions, it is still a far cry from millions of years. Hopefully, the authors are continuing the experiment to see how well the vessels remain preserved after a much longer timespan.
(2) The ostrich blood vessels were stored at room temperature throughout the course of the experiment. While this is a good first step, in order to really see how well this preservation holds, the authors need to vary the temperature in a way that is realistic. I would think that simulating the freeze/thaw cycle that happens every year would deteriorate the blood vessels over a long timespan.
(3) It's not clear that iron is always associated with soft tissue in dinosaur bones. For example, consider one of the most striking examples of soft tissue preservation in a dinosaur fossil. If you look at the photos in that paper, you see no evidence of iron particles. I contacted the lead author of the paper, and he informed me that he saw no iron particles or crystals in association with the soft bone cells in his samples. The only place he saw iron was inside partially-degraded tissues. So while iron might help preserve some soft tissue, it is probably not responsible for all soft-tissue preservation.
In my mind, then, here's what Schweitzer's excellent study demonstrates: In at least some cases, iron can preserve soft tissue for a significant length of time. How long? That's hard to say, especially since real-world conditions weren't used in the experiment. Nevertheless, the study at least provides us with a starting point for explaining the preservation of soft tissue in fossils. If the study is extended and starts to use real-world conditions, it might explain how soft tissue can be preserved for hundreds or perhaps even thousands of years. I am not sure how it could be used to explain the preservation of soft tissue over millions of years, but I remain open to the possibility.
REFERENCES
1. Mary H. Schweitzer, Jennifer L. Wittmeyer,John R. Horner, Jan K. Toporski, "Soft-Tissue Vessels and Cellular Preservation in Tyrannosaurus rex," Science, 307:1952-1955, 2005
Return to Text
2. Mary H. Schweitzer, Wenxia Zheng, Timothy P. Cleland, Mark B. Goodwin, Elizabeth Boatman, Elizabeth Theil, Matthew A. Marcus and Sirine C. Fakra, "A role for iron and oxygen chemistry in preserving soft tissues, cells and molecules from deep time," Proceedings of the Royal Society B 281:20132741, 2013
Return to Text