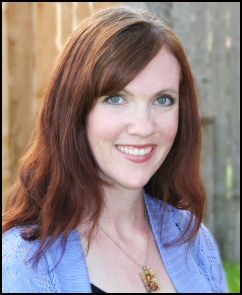 Those who read my blog regularly know that I like to discuss the stories of other atheists who have become Christians (see here, here, here, and here). Most of the time, these stories are rather different from my own, because God calls to each of us in a slightly different way. Nevertheless, I am always fascinated to see how people are able to find the errors inherent in an atheist worldview and learn the truth. Recently, I ran across the story of Jennifer Fulwiler, who was brought up in an atheistic household. In a short video presentation about her conversion, she says that when she was in fourth or fifth grade, her father would read Carl Sagan's Cosmos to her at night. Her parents brought her up to believe that science was the answer to everything, and so from a very early age, she was indoctrinated into the materialist worldview.
In 2005, she started a blog called The Reluctant Atheist, and on what appears to be her first post, she wrote:
I was raised to believe that God does not exist…About two years ago I decided to actually do my own research and try to come to my own conclusions about God. I realized that despite my mantra of being "open-minded" about religion I was actually quite closed to ideas that didn't fit with my atheist worldview.

So here I am. Two years and a lot of research later I'm still not sure what I think. I've uncovered a lot of information and philosophical perspectives that I certainly was not told about as a kid and am still trying to process it all. After educating myself more about physics and biology I now believe intellectually in some sort of intelligent design, but my heart has yet to catch up. To be totally honest with myself, I'm still functionally an atheist. But I want to believe. My logical mind tells me some sort of creator exists. Some deep gut feeling tells me God exists. But I have a long way to go.
This sounds a lot like me when I was an atheist. Once I actually started learning serious science, it became abundantly clear to me that a Creator had to exist. As a result, my mind was pushing me to a belief in God, but it took a while for my heart to catch up. If you scan through her posts at The Reluctant Atheist, you see her working through several issues, and it seems that in less than a year, her heart had caught up to her logical mind. She changed her blog from The Reluctant Atheist to Et tu, Jen?, and now it is called Conversion Diary.
What caused her to question her atheism to begin with? It was the birth of her first child. She says that when she looked at her child, the only way her atheist mind could explain the love that she had for him was to assume it was the result of nothing more than chemical reactions in her brain. However, in the video I linked above, she says:
And I looked down at him, and I realized that's not true.
This realization led her to start looking at other explanations for the world around her. At first, she said she looked at every major religion except Christianity, because she was certain Christianity couldn't be true. However, her husband (who she says was a "nonpracticing Christian" at the time) suggested she needed to include Christianity, because it was the one major religion whose founder claimed to be God. She says that once she started researching Christianity, she realized how ignorant she was of some of the greatest thinkers in human history, like Aquinas, Augustine, and Descartes. She had never read them because they were Christians, and she had presupposed that Christianity couldn't be true.
However, as she started reading them, she realized that these great thinkers were not Christians because of emotional reasons. Instead, she found that these Christian philosophers defended their faith based on rational arguments. She found their works to be intellectually rigorous, and it made her realize for the first time that there are serious, rational reasons to become a Christian. She then started watching current arguments between atheists and Christians, and she says:
As I would watch the atheists and the Christians go back and forth and debate, I realized we atheists, we don't have the lock on reason that I thought we did. But what I saw with the Christians was they had that, too, they had all the knowledge of science and the material world that we atheists did, but yet they had the total picture of the human experience – of love and triumph and hope – and, you know, they could articulate that in a way the atheists couldn't.
In the end, then, she looked at all sides of the issue, and like many others, she found that the Christian worldview had the best rational explanation for the world in which we live. That's why she became a Christian. In some ways, her story is similar to mine. I wasn't brought up atheist, but as an atheist, I started looking at other worldviews, and pretty quickly, my atheist worldview crumbled when faced with the evidence. Also, Mrs. Fulwiler and I have one other thing in common. She is a home educator!
If you would like to read a detailed account of her conversion, she also wrote a book entitled, Something Other Than God: How I Passionately Sought Happiness and Accidently Found It. I praise God that Jennifer Fulwiler had the intellectual fortitude to critically examine her atheistic views and consider other views with an open mind. I pray that many other atheists develop that same trait!