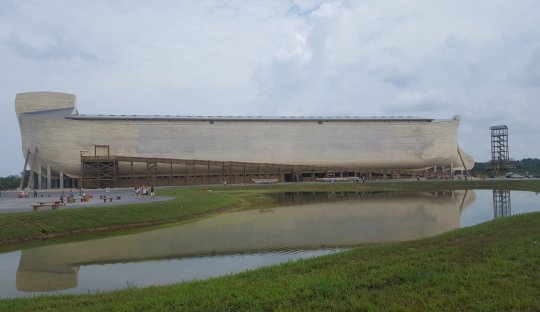 In early August, I toured the Answers in Genesis Ark Encounter. Overall, I was impressed with the facility, and I thought that regardless of your view on origins, it would be a very interesting place to tour, if you can afford it. Of course, there are those who aren't as favorably disposed towards the Ark Encounter, and they have a different view. Because I try to read all sides of an issue, I visited several anti-Ark websites prior to and after my visit, and many of them claimed that The Ark Encounter wasn't getting a lot of visitors (see here, here, here, and here, for example.). I didn't quite understand that, because the day I went (a Thursday in August), the place seemed pretty crowded. As I noted in my article, I had to wait 20 minutes to see one exhibit, because of the long line of people.
That's why I was interested to read the December 31st entry on Ken Ham's Blog. In that post, Mr. Ham lists seven ways that God blessed Answers in Genesis in 2016, and number three is:
Number of guests at the Ark. We've seen nearly 500,000 guests visit the Ark Encounter since it opened. Almost half a million people—including skeptics—have been encouraged to trust God's Word and the gospel through the Ark!
The Ark Encounter opened on July 7, 2016. As of December 31, then, it had been open for a bit less than half a year. Thus, it seems likely that by July 6, 2017, the Ark Encounter could have as many as a million guests, perhaps more.
How does this compare to projections? Well, that depends on whose projections we are talking about. When the Ark Encounter filed to take part in Kentucky's sales tax tourism incentive, the state hired a group named Hunden Strategic Partners, LLC to make attendance projections. Based on how the Ark Encounter describes itself, their analysis indicated that 325,000 people would visit the first year, and after two more years, a maximum of just over 400,000 people per year would come. Obviously, that estimate has been shown to be dramatically wrong.
Of course, Answers and Genesis hired a different firm (America's Research Group) to make predictions about attendance, and not surprisingly, that firm's analysis indicated a lot more people would visit the Ark Encounter. In 2008, it projected a minimum attendance of 1.2 million in the Ark Encounter's first year. However, in 2015, it did a new analysis and increased that number, saying that somewhere between 1.4 and 2.2 million visitors would come in the first year. It's not clear yet whether the Ark Encounter will meet either one of those minimums, but the projections made by America's Research Group are obviously more accurate than those made by Hunden Strategic Partners.
In the end, the Ark Encounter hasn't had the dismal attendance that its critics had hoped for. At the same time, however, it hasn't had the stellar attendance that Answers in Genesis had hoped for. Nevertheless, the attendance is more in line with the hopes of Answers in Genesis than it is with the hopes of the critics. I see that as a very positive thing.