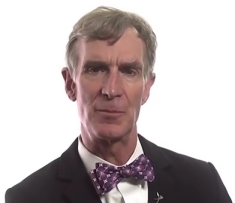 Bill Nye is a popular "scilebrity." Unfortunately, he does an enormous disservice to science, frequently speaking on topics about which he knows very little. He narrated a faked experiment on global warming because he doesn't understand the physical mechanisms governing how infrared light interacts with matter. If he did, he would have realized that the experiment he narrated couldn't possibly have worked. He excludes ideas simply because he doesn't care for them and encourages others to do the same. He wrote a book about evolution that is riddled with errors, and he tried to defend abortion using an argument that is demonstrably false.
Unfortunately, he doesn't seem to learn from his mistakes. Instead of educating himself on an issue before discussing it, he continues to pontificate on things about which he knows nearly nothing. His latest silliness is on the subject of philosophy. While Olivia Goldhill has written an excellent discussion of why that video is so ludicrous, I want to add just a couple of thoughts.
A while back, I wrote about Dr. Kevin R. Grazier, a planetary scientist at NASA's Jet Propulsion Laboratory and a science consultant for film and television. I briefly mentioned that he confirmed some of my thoughts regarding Bill Nye and Dr. Neil deGrasse Tyson, but Nye's inane video leads me to expand on that point. In addition to discussing errors that Nye and Tyson have made regarding the science found in film and television, Grazier said that in his view, both Nye and Tyson aren't really interested in educating the public about science. If they were, they would be more accurate in their pronouncements. Instead, they are just trying to convince the public that they are really smart guys.
I can't say whether or not Grazier's assessment is correct, but I can tell you that I seriously considered becoming a philosophy major when I was at university. I decided against it for several reasons, but one of the top reasons was simply this: I am not smart enough to be a philosopher. As a result, I decided to become a scientist. Yes, I said that correctly. In my estimation, it takes significantly more intellect to be a good philosopher than it does to be a good scientist. My experience as a scientist interacting with philosophers has only continued to confirm that view.
Of the people I know, for example, there are few who intimidate me intellectually. Despite the fact that I know a large number of scientists, only three people come to mind who truly make me shake in my intellectual boots. All three of them are philosophers. Don't get me wrong. I love discussing deep topics with them. Indeed, two of them are regulars on the homeschool speaking circuit, and I take every chance I get to hang out with them. The chats we have together often result in making my head hurt, but without fail, I always learn from them. The third person is one I used to have the honor of working with, and I still try to spend time with her when I can. By discussing deep topics with people who are smarter than me, I become a tiny bit smarter myself. As a result, if this video by Nye is an attempt to make him look smart, he has only achieved the opposite.
The other point I want to make is historical. The term "scientist" first appeared (as far as I can tell) in 1834, when Dr. William Whewell of Cambridge University (a philosopher and historian) coined it. Back then, scientists understood how important philosophy was to their work, so many of them (including the great Michael Faraday) used Dr. Whewell as a terminology consultant. He suggested the term "scientist" to replace the term that had been used up until that point: natural philosopher. Yes, for the vast majority of the history of science, scientists were philosophers.
It's unfortunate that Nye has no idea how important philosophy is when it comes to science.