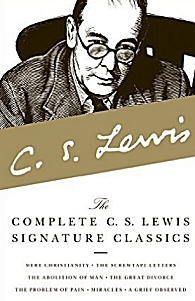 More than three years ago, I ran across two articles that mischaracterized C. S. Lewis's views on creation. I wrote about both of them, but the one that distressed me the most claimed that Lewis was a "creationist and anti-evolutionist." Since it so severely mischaracterized Lewis's views, I asked the publisher, Creation Ministries International (CMI), to remove it from their website. At first, they did not. I wrote two other articles on the subject (here and here) and thought I was done.
Later on, however, an email correspondence led me to write a detailed rebuttal of the article and send it to the journal in which it was originally published. The journal published my rebuttal and gave the author of the article space to respond (which is the proper thing to do). However, it was clear that he could not defend what he had done to Lewis's words. As a result, CMI eventually withdrew the article. I am pleased that they did the right thing.
Why am I telling you this? Because I recently ran across another article about C.S. Lewis, and it makes an incredible claim: "C.S. Lewis Was a Secret Government Agent." The article was written by a well-respected Christian academic, Dr. Harry (Hal) Poe, who is also an avid collector of items related to Lewis, J. R. R. Tolkein, and other literary figures who interacted with them. While the phrase "secret government agent" is a bit over-the-top, the essence of article seems quite reasonable, and it illustrates how someone as well-studied as C.S. Lewis can still harbor a surprising secret!
While the article is long (he is an academic, after all), the upshot is that Poe was searching eBay and noticed that someone was selling a 78 rpm record that supposedly contained a lecture by C.S. Lewis. Poe figured this had to be a hoax, because he had studied Lewis thoroughly, and there was simply no indication that a 78 rpm record had ever been made of any of Lewis's lectures. Nevertheless, Poe was curious, so he bought it, and it turns out that the record seems to be legitimate! It is parts 1 and 3 of a series entitled "The Norse Spirit in English Literature." Poe is now searching for parts 2 and 4.
Obviously, Poe wanted to learn more about this amazing find, so he did some digging. He found out that during World War II, Iceland had strategic significance. The British invaded it to take it from the Germans, but Britain needed to secure the good will of the people there. As a result, the Joint Broadcasting Committee (an arm of British intelligence) asked Lewis to record a lecture that would help the people of Iceland feel some kinship towards the people of Britain. The lecture for which Poe has parts 1 and 3 was the result.
Interestingly enough, this record clears up a bit of a mystery among C.S. Lewis scholars. In a 1941 letter to his friend Arthur Greeves, Lewis remarked that he had made a gramophone record of himself and then listened to it. He had never heard his own voice from a recording and was shocked at how he sounded. Scholars didn't really understand what this statement referenced, since there was no known gramophone record with Lewis's voice. However, the timing of the letter works perfectly if it is referencing this record. Dr. Poe plans to hold a public hearing of the record in July of this year.
Now as I said, the term "secret government agent" is a bit over-the-top. While Lewis did keep this recording secret from everyone in Britain, it was presumably broadcast in Iceland. Thus, he was not under cover or anything like that. However, he did do some work for an arm of British Intelligence, and it was kept secret from most people.
I find it astounding that a well-studied man like C.S. Lewis, who died less than 60 years ago, can still surprise those who are experts about his works and his life! It makes you wonder what other unknown works exist for other well-known writers!