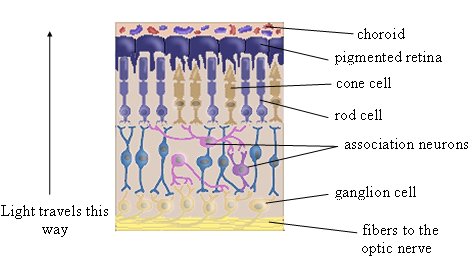 Many evolutionists have claimed that the human eye (actually the vertebrate eye in general) is wired "backwards." According to evolutionists, this is such a terrible way to make an eye that it clearly shows the eye has no Designer. What is so "terrible" about the way the eye is wired? Well, light that enters the eye is detected by specialized cells called rods and cones. Those rods and cones convert the light that they detect into signals that travel through association neurons and into nerve fibers that carry the signals to the brain. As shown in the illustration above, however, the neurons and nerves that carry those signals are in front of the rods and cones. Thus, light must travel through the nerves and association neurons before it can hit the rods and cones.
According to evolutionists, this is a terrible design. After all, if anyone with any sense were to design an eye, the rods and cones would be the first thing the light hits. That way, the rods and cones would get an unobstructed view of the light. Since the vertebrate eye is not designed the way these evolutionists think should be "obvious," it is clear (to them) that the eye was not designed. Indeed, in his book The Blind Watchmaker (probably his best work), Richard Dawkins says:
Any engineer would naturally assume that the photocells would point towards the light, with their wires leading backwards towards the brain. He would laugh at any suggestion that the photocells might point away from the light, with their wires departing on the side nearest the light. Yet this is exactly what happens in all vertebrate retinas.1
Of course, like most evolutionary nonsense, the more science we learn, the more we see how wrong this argument is.
Continue reading "Science Has Demonstrated Evolutionists Wrong and Creationists Right…AGAIN"