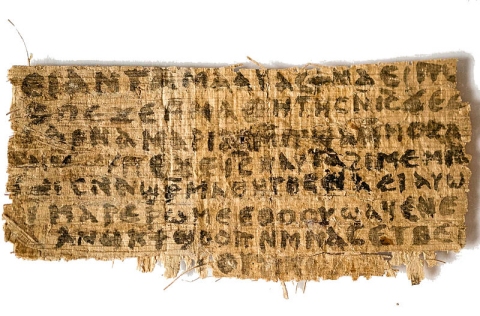 In 2012, the media was abuzz with a sensational archaeological find. An ancient scrap of papyrus, a paper-like material made from the papyrus plant, contained the phrase, "Jesus said to them, 'my wife…'." In addition, the fragment mentions the name "Mary." An anonymous owner had given the fragment (and another that contains some of the Gospel of John) to Dr. Karen King of Harvard University, who judged it to be from the fourth century AD. This, of course, indicates that at least some early Christians thought Jesus was married, perhaps to Mary Magdalene. As a result, people started calling this scrap of papyrus "The Gospel of Jesus' Wife."
Immediately, there were those who thought the papyrus fragment mentioning Jesus' wife was not authentic, but in April of this year, the Harvard Theological Review published a series of articles supporting its authenticity. One of the most important pieces of evidence was the radiocarbon dating test, which indicates the papyrus was made between AD 209 and AD 405. The same testing indicates that the other papyrus (which contains some of the Gospel of John) was made between AD 681 and AD 877. Radiocarbon dating has lots of problems associated with it, but when it can be calibrated using tree rings (as is true in this case), it is reasonably reliable. Thus, the papyrus fragments probably were made during those time periods.
Just a few weeks later, Indiana Wesleyan University's Dr. Christian Askeland posted a blog article that shows the papyrus fragment containing some of the Gospel of John is almost certainly a fake. He compared it to an authentic fragment of the Gospel of John, called the Codex Qau. He found similarities that could not be coincidental. For example, in 17 lines, the breaks in the text are the same between the two documents. In addition, he noted that the dialect used in the papyrus fragment in question fell out of use long before the time when the radiocarbon dating says the papyrus was made.
Based on his analysis, Askeland concludes:
Unless compelling counter-arguments arise, both this fragment and the Gospel of Jesus Wife fragment should now be considered forgeries beyond any doubt.
Continue reading "Not Surprisingly, the "Gospel of Jesus' Wife" Is a Fake"