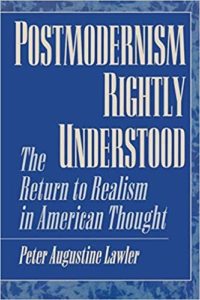 I am not a fan of postmodernism, at least as it is generally defined. Because of this, I have written a couple of posts (here and here) that portray it in a negative light. A frequent commenter on this blog, Jake, took issue with my negative portrayal and suggested that I read Postmodernism Rightly Understood by Dr. Peter Augustine Lawler.
Since I appreciate Jake's excellent comments and have learned from him on more than one occasion, I wanted to read the book, but it took me a while to get to it. I finally did read it last week. It was an interesting book that discussed several important authors and their ideas. Some of the authors (like Walker Percy, Alexis de Tocqueville, and Allan Bloom) were familiar to me, but others weren't. As a result, I learned a lot and was exposed to several new ideas. However, I think the book misses the mark.
Now, of course, I am practicing philosophy without a license, while Dr. Lawler is a trained philosopher with lots of experience. Thus, you can take this criticism for what it is worth. Nevertheless, I don't think this book is a defense of postmodernism. It is more of a discussion of anti-modernism, and based on Lawler's obvious admiration of Walker Percy (who definitely deserves admiration), it is more a defense of Thomism.
Of course, it's easy to get lost in the language of philosophy, so let's make sure we are all on the same page. When it comes to philosophy, modernism suggests that we should ignore traditions (both religious and social) and the inherent biases that come with them, and we should try to judge the world critically. The more unbiased we can be in our judgments, the better. If we do that, we will be able to control our own destiny.