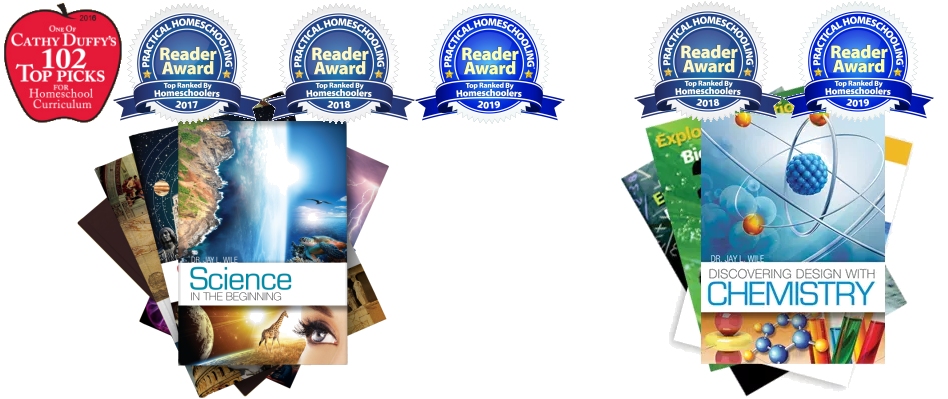 My publisher has been getting several questions about how I address the age of the earth in my science courses. This probably stems from the fact that there is a lot of misinformation going through the homeschooling community regarding my position on the issue. I thought I would try to clear things up with a post.
First, my position on the age of the earth hasn't changed in more than thirty years. I turned from atheism to Christianity in my late high school years, and at that time, I was happy to believe what my teachers told me about the age of the earth. It was more than four billion years old. I was told that we knew this because of radiometric dating methods, which involved studying the relative amounts of radioactive atoms in rocks and fossils. This "fact" of science was later reinforced when I went to university, so I was still happy to believe it.
Then I started my Ph.D. program in nuclear chemistry. I learned about radioactive decay in detail and started doing experiments with nuclear reactions. Most of my work was done at the University of Rochester Nuclear Structure Research Lab, which also had a group that did radiometric dating. I never did any of that work myself, but I watched them do their experiments, asked them questions, listened to their presentations at the lab, etc. Based on what I learned there, I decided that I couldn't put much faith in the ages given by radiometric dating.
This caused me to question the age of the earth from a scientific perspective. Theologically, I wasn't committed to any age for the earth. Certainly the most straightforward interpretation of Genesis is that the universe and all it contains was created in six solar days, and that leads to a young-earth view. At the same time, however, there were early church Fathers (as well as ancient Jewish theologians) who didn't interpret the days in Genesis that way. So I attempted to investigate the subject with an open mind. I found that in my view, science makes a lot more sense if the earth is thousands of years old rather than billions of years old, so I started believing in a young earth. The more I have studied science, the more convinced I have become that the earth is only thousands of years old.
Second, while I have been a young-earth creationist for more than thirty years, I recognize that there are a lot of wonderful, devout Christians who believe otherwise. Indeed, some of my Christian role models (like Dr. Alvin Plantinga and double-Dr. Alister McGrath) believe that the earth is billions of years old. As a result, in all of my books, I try to avoid being dogmatic. When it is related to the material that is being discussed, I simply present the scientific evidence. When it is not related, I don't discuss it at all. Here is a rundown of how that plays out in the books that I have written so far:
The first book of my elementary series is called Science in the Beginning, and it covers science using the days of creation to order what the students are studying. The first set of lessons goes with the first day of creation, so students learn about light. The second set of lessons goes with the second day, etc. When the students are done with the book, they have covered all the days of creation, so they have learned a bit about everything that was created. Throughout the course, the length of the days is not mentioned, because we really don't know how long they were. Thus, it doesn't make sense to discuss it in an elementary science course.
The rest of the series covers science chronologically, so students learn science in the same order it was learned in history. In these books, the age of the earth is mentioned only when the people being covered did work that addressed it. For example, in Science in the Scientific Revolution, I have a lesson on Bishop James Ussher. While many young-earth creationists rely on his conclusion about the age of the earth, most of them don't understand how he actually reached it. As a result, I discuss the details of his work so that students know what led him to the conclusion that the earth is thousands of years old.
In the later books of the series, the issue comes up a bit more often. In Science in the Age of Reason, for example, I discuss James Hutton. He observed Hadrian's Wall, which had been built roughly 1,500 years previously. There was hardly any evidence of erosion in the cut stones that made up the wall. He compared that to rocks that he had studied in nature, which showed evidence of massive amounts of erosion. He decided that in order to account for all that erosion, those rocks must be much older than Hadrian's wall, so the earth must be truly ancient. In the book, I give a full account of his reasoning, but I then indicate what I think he was neglecting – the fact that large volumes of water can produce massive amounts of erosion in a short time.
In the end, then, if a person was known for work related to the age of the earth, I discuss his views as honestly as I can. If those views aren't young-earth, I add my own "color commentary," indicating what I think might be wrong with his reasoning. So while students clearly see that I am a young-earth creationist, they also clearly see the evidence that led others to a different conclusion.
In my junior high and high school courses, I discuss the issue when it is appropriate, but honestly, it doesn't come up all that often, because it doesn't relate to a lot of what junior high and high school students study. When I discuss geology in my General Science course (which is no longer being printed by the publisher but is still available here), I give students both the old-earth view of geology and the young-earth view. I then tell them the scientific problems that exist for both views. I also tell them that I am a young-earth creationist, so my discussion is probably a bit biased in favor of that view.
In my Physical Science course, I discuss radioactivity, so I discuss radiometric dating. The students learn the assumptions that have to be made in the process of radiometric dating and the problems that exist with those assumptions. The students also learn about the many inconsistencies that occur when radiometric dates are compared to dates obtained by other methods. The students cover this again in more detail if they take my Advanced Chemistry course.
In my biology course, the issue comes up a couple of times. When I discuss the fossil record, I have to discuss the geological column, and I therefore must discuss the assumptions that are made when interpreting the geological column. I give the old-earth view and the young-earth view, stressing that neither can be confirmed, because there is evidence on both sides. The issue comes up again when dinosaurs are discussed. I indicate that most scientists use the old-earth view of the geological column to conclude that dinosaurs and people did not coexist. I then give the students the scientific reasons that I think they did coexist.
The only other course that addresses the age of the earth is my chemistry course. When I discuss the concept of an absolute temperature scale, I discuss the process of extrapolation. While this is a valuable tool in the scientist's toolbox, it needs to be used cautiously. I discuss instances where extrapolation is justified, and instances where it is not. I use radiometric dating as an example of the latter.
If you are looking for a science curriculum that dogmatically tells students that the earth is about 6,000 years old or that it is about 4.5 billion years old, you shouldn't use my curriculum. I want the students who use my curriculum to learn good science, and good science is not dogmatic.