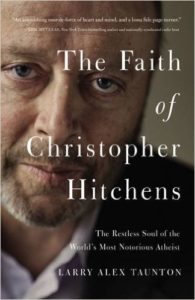 Larry Alex Taunton is a columnist who started the Fixed Point Foundation, an apologetics organization that is probably best known for arranging high-profile debates between well-known atheists and Christians. For example, it arranged the famous "God Delusion" debate between Dr. Richard Dawkins and Dr. John Lennox. Other notable debates include The "Is God Great" debate between Christopher Hitchens and Dr. John Lennox and the "God on Trial" debate between Christopher Hitchens and Dinesh D'Souza. Because his organization has arranged such debates (and because he often moderates them), Taunton has met and gotten to know the participants, including Christopher Hitchens, who many recognize as an outspoken atheist. Despite the fact that Hitchens and Taunton were polar opposites when it came to their core beliefs, they developed a deep friendship, which is the topic if this book.
Taunton's publisher suggested that he write the book shortly after Hitchens passed away in late 2011, but Taunton wasn't interested at the time. He didn't see how he could write a book about their friendship that was both interesting and uplifting. However, as time passed and he thought more about it, he realized that there was a way he could get the job done. I have to say that he was right. This book is both very interesting and quite uplifting. I have already relayed one very uplifting part of this book at the end of a previous blog post. Now it's time for me to share more.
The most interesting aspect of the book, of course, is the friendship that developed between these two men. It's interesting simply because it's so rare these days. Many people spend so much time characterizing those with whom they disagree as "the enemy," it seems unfathomable that a Christian apologist and a vocal atheist could be real friends. Indeed, as Taunton himself says:
The truth is, there were those who did not want us to be friends. This is a sad commentary on our society and the degree to which we have lost our ability to reason with one another. I speak exclusively to Christians when I say this: how are we to proclaim our faith if we cannot even build bridges with those who do not share it? (p. xi)
I couldn't agree more. Of course, the problem goes both ways. Taunton reports on one Hitchens fan who was taken aback by their friendship:
That same night while speaking to an audience of some 1,200 people, Christopher made a passing reference to a road trip we had taken together through the Shenandoah Valley. At the book signing following the event, a man, an atheist and a devotee of all things Christopher Hitchens, asked his hero why he would undertake such a journey. "Have you ever seem the Shenandoah at this time of year? It's beautiful." Having signed the book, Christopher closed it, handed it back, and reached for the next one. "That's not what I meant. I meant why would you do it with him? You know, a Christian?" "Because he is my friend, and you, sir, are an idiot. (p. 115)
I can just hear Hitchens saying that to his crestfallen fan!