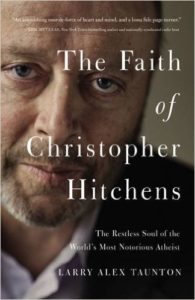 Larry Alex Taunton is a columnist who started the Fixed Point Foundation, an apologetics organization that is probably best known for arranging high-profile debates between well-known atheists and Christians. For example, it arranged the famous "God Delusion" debate between Dr. Richard Dawkins and Dr. John Lennox. Other notable debates include The "Is God Great" debate between Christopher Hitchens and Dr. John Lennox and the "God on Trial" debate between Christopher Hitchens and Dinesh D'Souza. Because his organization has arranged such debates (and because he often moderates them), Taunton has met and gotten to know the participants, including Christopher Hitchens, who many recognize as an outspoken atheist. Despite the fact that Hitchens and Taunton were polar opposites when it came to their core beliefs, they developed a deep friendship, which is the topic if this book.
Taunton's publisher suggested that he write the book shortly after Hitchens passed away in late 2011, but Taunton wasn't interested at the time. He didn't see how he could write a book about their friendship that was both interesting and uplifting. However, as time passed and he thought more about it, he realized that there was a way he could get the job done. I have to say that he was right. This book is both very interesting and quite uplifting. I have already relayed one very uplifting part of this book at the end of a previous blog post. Now it's time for me to share more.
The most interesting aspect of the book, of course, is the friendship that developed between these two men. It's interesting simply because it's so rare these days. Many people spend so much time characterizing those with whom they disagree as "the enemy," it seems unfathomable that a Christian apologist and a vocal atheist could be real friends. Indeed, as Taunton himself says:
The truth is, there were those who did not want us to be friends. This is a sad commentary on our society and the degree to which we have lost our ability to reason with one another. I speak exclusively to Christians when I say this: how are we to proclaim our faith if we cannot even build bridges with those who do not share it? (p. xi)
I couldn't agree more. Of course, the problem goes both ways. Taunton reports on one Hitchens fan who was taken aback by their friendship:
That same night while speaking to an audience of some 1,200 people, Christopher made a passing reference to a road trip we had taken together through the Shenandoah Valley. At the book signing following the event, a man, an atheist and a devotee of all things Christopher Hitchens, asked his hero why he would undertake such a journey. "Have you ever seem the Shenandoah at this time of year? It's beautiful." Having signed the book, Christopher closed it, handed it back, and reached for the next one. "That's not what I meant. I meant why would you do it with him? You know, a Christian?" "Because he is my friend, and you, sir, are an idiot. (p. 115)
I can just hear Hitchens saying that to his crestfallen fan!
Taunton's reports of his trip through the Shenandoah Valley with Hitchens and their later trip through Yellowstone National Park are fascinating. He discusses how they read the Gospel of John together and the questions they asked one another. The accounts show a completely different Hitchens from the bombastic "New Atheist" who has no time for those who quote the Bible. Indeed, that's a running theme throughout Taunton's description of Christopher Hitchens.
Taunton says that, like a dishonest accountant, Hitchens kept "two sets of books." One set of books (one personality) was open to the public, and a completely different set of books (a completely different personality) was available to his friends. In no way does this imply that Hitchens was dishonest. Taunton is simply saying that Hitchens's public persona was carefully crafted to communicate his atheism as effectively as possible. His private persona, on the other hand, was one of a genuinely nice guy who was still a devoted atheist, but at the same time was willing to discuss "the other side" congenially among his friends.
I think it's clear why Hitchens kept those two sets of books. His public persona was much more effective than his private persona, which is best demonstrated by something Taunton discusses after Hitchens's last debate, which was against Taunton himself:
As I stepped off the stage, 60 Minutes reporter Steve Kroft brushed past me on his way to interview Christopher. Kroft's producer, Frank Devine, approached me with a quizzical look on his face. "Did I hear Hitchens say that the two of you studied the Bible together during your drive?" "That's right." "But he's an atheist and you're an evangelical Christian, aren't you?" "That's right." "I would've liked to have been a fly on the wall for that conversation! Did you two nearly kill each other?" "No. Not at all. We are friends. He asked thoughtful questions about the Gospel of John and I did my best to answer them. I enjoy his company." With that, he shrugged and walked away. Apparently, a civil, thoughtful discussion was of no interest to 60 Minutes. (p. 133 – emphasis mine)
Unfortunately, the sentence I highlighted in bold could be applied to a large number of media organizations, as well as a large number of individuals. This may very well explain why the most caustic people on both sides of an issue are the ones who get most of the attention.
Did their mutual study of the Gospel of John change Hitchens's mind? I think it's pretty clear that it did not. Taunton admits that according to Hitchens's family, God didn't even come up in the conversations that Hitchens had during his last days on earth. Of course, because of Hitchens's "two sets of books," Taunton holds out hope that in his deep, private persona, Hitchens was considering a conversion to Christianity. Some writers have hyped that hope, and no one would be happier than me if it turned out to be true. However, even after reading Taunton's book, I don't think it is.
Before I end this long-winded review, I want to point out another reason why you should read this book. It shows that you can't judge a person's beliefs simply because of his belief (or lack thereof) in God. For example, Hitchens was an atheist, and a vocal one at that. However, did you know that he was also pro-life? He wasn't in favor of making abortion illegal, but he said that it is clear that unborn children are people. Taunton quotes a video of Hitchens where he says:
It seems to me obvious from the discoveries of biology and embryology that the concept 'unborn child' is a real one…And it has to be granted to the Church that it has made this a centerpiece of its ethic and morality.
Now, of course, most atheists are not pro-life. Thus, you might think that a vocal atheist like Hitchens would toe the "party line." However, he did not. While most of his fellow atheists were opposed to President Bush's response to 9/11, Hitchens supported it. In the end, Hitchens was a man who made up his mind for himself. He didn't subscribe to views simply because they were part of the "party line."
I never thought much of Hitchens based on what I had read of his works. However, Taunton's book raised my estimation of the man.