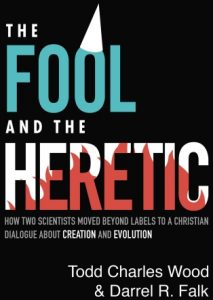 When the creation/evolution controversy comes up in Christian circles, it is often accompanied by a lot of strife. Some Christians think that evolution comes straight from the Devil, while others think that when Christians refuse to accept the fact of evolution, they are harming the cause of Christ. Unfortunately, most of the major Christian organizations that focus on the subject fuel this acrimony. As a result, when I heard that the Colossian Forum had convinced Dr. Todd Wood (a young-earth creationist) and Dr. Darrel R. Falk (a theistic evolutionist) to write a book about the subject, I was intrigued. I actually pre-ordered a copy of the Kindle version, but later was happy to find that the publisher had sent me a free paperback copy to review.
The book, entitled The Fool and the Heretic, is made up of chapters written by Dr. Wood (the "fool"), chapters written by Dr. Falk (the "heretic"), and short interludes written by Rob Barrett of the Colossian Forum. There are also discussion questions at the end of each chapter. Drs. Wood and Falk are diametrically opposed when it comes to the question of origins, and that becomes clear right up front. Indeed, the first chapter (written by Wood) is entitled "Why Darrel is Wrong and Why It Matters," and the next chapter (written by Falk) is "Why Todd is Wrong and Why It Matters." Because of those titles, I almost named this review, "Why Todd, Darrel, and Rob are all wrong and why it matters," because that's the main conclusion I was left with when I finished the book.
Both initial chapters present the standard view from each camp. Dr. Wood says that Dr. Falk is wrong because when you try to interpret the first eleven chapters of Genesis to be anything other than historical narrative, you end up doing great theological damage to the rest of the Bible. Dr. Falk says that Dr. Wood is wrong because the evidence for evolution is overwhelming, and when Christians reject that evidence in order to hang on to an outdated view of Scripture, it ends up causing great damage, especially to those who are interested in pursuing the truth. They will eventually encounter this overwhelming evidence, and it will produce a crisis of faith, which sometimes results in leaving the faith. Of course, neither of those assertions is new, and in my view, neither of them is correct.
Contrary to Dr. Wood's view, the history of Christendom is replete with examples of great Christians who did not interpret the first eleven chapters of Genesis as historical narrative and yet not only did great works for the cause of Christ but also provided great insights into the meaning of Scripture. Origen of Alexandria, Clement of Alexandria, Hilary of Poitiers, Cyprian of Carthage, William of Conches, Charles Hodge, Benjamin B. Warfield, C.S. Lewis, and Gleason Archer all come to mind. Contrary to Dr. Falk's position, while there are cases of young-earth creationists giving up the faith because of evolution, there are also cases of atheist evolutionists coming to faith in Christ because of young-earth creationism (see here, and here, for example). In my personal experience, there are more of the latter than the former.
What makes this book particularly frustrating, however, is that all three of the contributors seem to agree with Dr. Falk on the idea that the evidence for evolution is overwhelming. Dr. Wood is well-known for saying that there are "gobs and gobs" of evidence for evolution, and he doesn't do anything to back away from that incorrect view in this book. Unfortunately, even Barrett says:
When it comes to the science of origins, Darrel appears to hold all of the cards. Legions of scientists have been working diligently for more than a century to refine our understanding of evolution. Mountains of evidence support the theory of evolution, so much that no single scientific specialist can appreciate it all. Even Todd would agree with that. (p. 125)
Dr. Wood probably does agree with that, but many scientists, including me, do not. Unlike Todd, I am not a creationist because I think the first eleven chapters of Genesis must be interpreted as historical narrative. I am a creationist because the data clearly support the creationist position. Indeed, I was an atheist who became a creationist because of science. In my opinion, when it comes to the science of origins, creationists appear to hold all of the cards.
This, of course, brings me to my second frustration with the book. It barely touches on the science related to origins. There are 188 pages of text in the book, and only a handful of them deal with any science. Unfortunately, in those pages, the treatment is ridiculously simple. Now I understand that a scientific discussion is not the primary aim of the book. However, if your book is going to claim (incorrectly) that there are "mountains of evidence" supporting the theory of evolution, you had better at least climb that mountain a little bit. Unfortunately, none of the contributors do.
Now, despite the fact that I found the book frustrating, I also found it to be a very positive addition to the creation/evolution discussion within the church. As you read through the pages, you see what it means for two people who genuinely love each other to disagree about something really important. It means that they get past the animus and try to understand each other. For example, there is a wonderful discussion about how Dr. Falk initially dismissed Dr. Wood's understanding of a particular scientific idea, but later apologizes, because he comes to realize that Dr. Wood does understand the idea quite well. In the same way, there is a discussion of how Dr. Wood thought that people like Dr. Falk weren't worried about the devout Christian who reads the Bible and doesn't care to understand the science of evolution. However, Dr. Wood comes to realize that Dr. Falk is, indeed, worried about such people, because they may one day be faced with the supposed "mountain" of evidence, and that might result in a crisis of faith.
In the end, that's the main focus of this book. It isn't specifically about the creation/evolution debate itself. It's about how Christians who are on opposite sides of the issue need to get beyond the debate and find something deeper. Why? This is adeptly explained by Barrett:
Jesus cuts through arguments in ways that bring us back to the fundamentals. His enemies tried to entrap him with the hot debate over paying taxes. But he refused the two options and challenged his followers to dig deeper to discover what it might mean to give God what belongs to God (Matt. 22:21). What if there's something more important at stake than whether we pay taxes?…What if our disagreements are about something more than who's right and who's wrong? What if our plight of division and disagreement is an opportunity for something new to appear, something worthy of Jesus? What might that look like? (pp. 11-12)
I honestly think it would look a bit like this book. So while it wasn't the book I was hoping for, it is a good first step in opening up a dialogue on the creation/evolution debate that might, one day, produce something deeper.