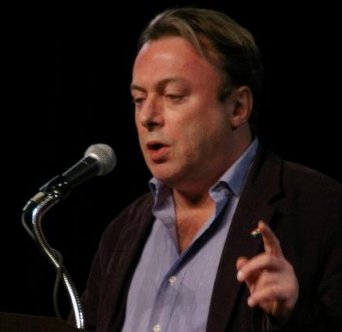 Christopher Hitchens died yesterday at the age of 62. In 2010, he publicly stated that he was being treated for esophageal cancer. He ended up dying of pneumonia, which doctors said was a complication from the disease. He was a journalist and writer, best known for his caustic defense of atheism.
While he was a prolific author, I read only two of his books. The first, The Portable Atheist: Essential Readings for the Non-Believer, was actually a collection works from other writers. The authors ranged from Lucretius to Dawkins. As such, it was a rather hit-and-miss book. Some of the works (like those from Shelley, Hume, and Dennett) were quite good, and some (like those from Hardy, Sagan, and Dawkins) were quite bad. Hitchens wrote an introduction to each work, which gave me some idea of his views and the methods by which he came to them.
Based on that, I also read God Is Not Great: How Religion Poisons Everything. It contained very little of note, although Hitchens's style did make it interesting to read. After finishing the book, I was left to wonder why some consider him to be such a powerful voice for atheism. There are very powerful voices in atheism, but based on what I have read, Hitchens doesn't even register as a whisper compared to them.
If you have never read anything from him, a couple of quotes might be helpful. In the introduction to The Portable Atheist, he says:
…owners of dogs will have noticed that, if you provide them with food and water and shelter and affection, they will think you are god. Whereas owners of cats are compelled to realize that, if you provide them with food and water and shelter and affection, they draw the conclusion that they are gods. (p. xvi)
While I appreciate his turn of phrase and agree with his characterization of dogs and cats, he then goes on to say something rather absurd. He claims that religion partakes of both thought processes. Those who believe in religion (the context of the quote was Christianity) must have the servile view of a dog, but at the same time, they must view themselves as being at the center of the universe because they think that they are part of a Divine plan. I would think that anyone who is even partly familiar with Christianity knows that this is a mischaracterization. Unfortunately, such mischaracterizations were common in both his books that I read.
When he revealed that he was being treated for cancer, there were many who suggested that he might experience a conversion as a result of his illness. Certainly, Christendom is full of accounts of people who are stricken with a grave illness or injury and turn to Christ as a result. However, Hitchens made it clear that this would not happen for him. When asked about the possibility of a future report from him saying that he had turned to Christ, he said:
The entity making such a remark might be a raving, terrified person whose cancer has spread to the brain. I can't guarantee that such an entity wouldn't make such a ridiculous remark, but no one recognizable as myself would ever make such a remark.
So to Hitchens, the only possible way he could come to Christ is if he had some sort of brain disease that kept him from being able to think rationally. I find that rather sad.
I want to emphasize that if Hitchens did experience a deathbed conversion, he will be in heaven with all the saints, including those who worked for the cause of Christ for a long, long time. This is the power of Christ's love for us. It wouldn't matter to Christ that Hitchens had been ridiculing Christianity and fighting against it all his life. If Hitchens honestly called out to Him, Christ would answer. That's the power of the Gospel, and I pray that Hitchens did experience it before he died.
You might be interested in reflections by other Christians on this subject. Here are a few:
Faith and Self Defense
Thinking Christian
The Real Issue
The Aristophrenium
Reasons for God