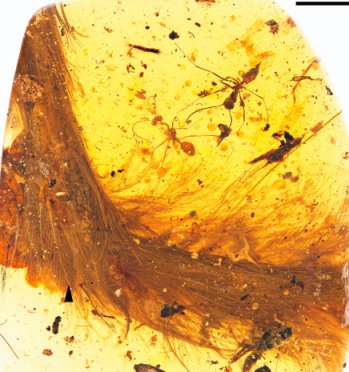 At university, I was taught (as definitive fact) that the scales on reptiles slowly evolved into feathers. While you can still find this idea in popular literature, serious evolutionists no longer suggest it, because there is simply too much evidence to the contrary. Most evolutionists today suggest that feathers, scales, and hair all evolved from a common ancestral structure. I am sure that if serious scientists are still discussing flagellate-to-philosopher evolution in 50 years, there will be yet another idea of how these structures evolved.
Because evolutionists no longer think that feathers evolved from scales, the currently-fashionable thing to teach as definitive fact is that at least some (if not all) dinosaurs had feathers. The problem is that solid evidence to back up this "fact" has been sorely lacking. There are some dinosaur fossils that give hints of feathers, but there are alternate interpretations of what those hints mean. There are other fossils that clearly show feathers, but it's not clear the fossils are of dinosaurs.
Now all that has changed, at least according to some sources, because of a recently-reported fossil. The remarkable specimen (pictured above) is part of a tail that has been encased in amber. The amber has preserved both the bones in the tail and the feathers that covered it, giving paleontologists a superb sample to analyze. While the results of the analysis are not conclusive, I do think that they add to the case that at least some dinosaurs had feathers.
The paper reporting the analysis is open-access, so you can read it if you can sort through all the jargon. If nothing else, you can see the excellent pictures of the specimen. Essentially, the fossil clearly contains at least two vertebrae that are very similar to what you find in the tails of dinosaurs. Because of the remains of preserved tissue, it is hard to distinguish more individual vertebrae, but based on the size of the two that can be distinguished, it is thought that this specimen preserves eight full vertebrae and part of a ninth. Based on the structure of the fossil, the authors think that the specimen contains only part of the tail, and they estimate that the full tail might have contained more than 25 vertebrae.
Why is this important? Because while there are birds with bony tails, they typically have less than 10 vertebrae. If this creature had more than 25, most paleontologists would say it clearly isn't a bird. I am not a paleontologist, but I question that idea. While most bony-tailed birds have very few vertebrae in their tails, there are at least two fossils of what I think are clearly birds, and each of them has at least 20 vertebrae.
Archaeopteryx, for example, is clearly a bird, at least as far as I am concerned. It has all the important characteristics of birds, and it could fly. In my mind, that makes it a bird. You can argue that it is some kind of transitional fossil, but I find the evidence for that idea to be very weak. It has at least 20 vertebrae in its tail. Jeholornis is another example of a fossil bird with more than 20 vertebrae in its tail.
So it's possible that this fossil belonged to a long-tailed bird like Archaeopteryx or Jeholornis. The problem with that idea, however, is the feathers themselves. The authors make the strong case that if the animal was covered in feathers like the ones preserved in the fossil, it would not be capable of flight. Thus, if this is a bird, it seems it was a flightless bird, which would be quite different from Archaeopteryx and Jeholornis.
So is this fossil from an ancient long-tailed bird or a feathered dinosaur? The honest answer is that nobody knows. It seems to me that there are at least three possibilities: It might be from a feathered dinosaur. It might be from a flightless, long-tailed ancient bird. It might be from a long-tailed bird, but the flight feathers didn't get preserved for some reason. Hopefully, more fossils will be found to help us determine which of those possibilities (if any) is the correct one.
Based on what we know right now, however, I would say that the most obvious interpretation of the fossil is that it came from a feathered dinosaur. Thus, this makes me more inclined to believe that at least some dinosaurs had feathers. Now please understand that these are real, fully-developed feathers. They aren't the "dino fuzz" that some paleontologists believe covered some dinosaurs. There are serious problems with that idea.