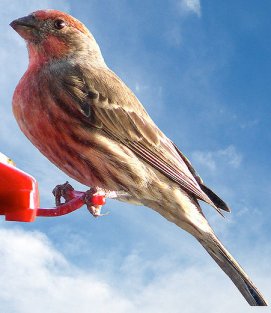 The origin of pathogens is of particular interest to creationists. When God finished creating the world, he pronounced it "very good." Now as I have pointed out previously, the term "very good" does not mean perfect. Nevertheless, it is hard to understand how disease-causing pathogens could fit into to a "very good" creation. So where did pathogenic organisms come from? One of the first steps toward an answer to that question came in 2003, when J.W. Francis proposed that microscopic organisms were created to serve as a link between macroscopic organisms and their physical environment. This link helped to channel necessary chemicals from the environment to the macroscopic organisms. However, when the Fall occurred, mutations began happening, and those mutations ended up turning beneficial microorganisms into pathogenic microorganisms.1
This makes sense in light of certain forms of cooperation between organisms. For example, a while ago I wrote about a relationship that exists between a grass that flourishes in hot soils, a fungus, and a virus. Scientists don't know the details of the relationship, but they know that in order for the plant to grow in hot soils, it must be infected by a specific fungus. However, that fungus will not do the plant any good unless it is infected by a virus. Obviously, the fungus supplies some necessary chemicals to the plant, allowing it to live in hot soil. However, in order for the fungus to be able to do that, the virus must be providing necessary chemicals to the fungus. So in this situation, you have a viral link between the environment and a fungus, and then a higher-level link between the fungus and the plant. Obviously, if one of those links was corrupted, it could turn a beneficial relationship into a deadly one.
Over time, other creationists have suggested ideas for the origin of other pathogens. Dr. Peter Borger, for example, has a very interesting hypothesis on the origin of RNA viruses. He suggests that the genomes of all creatures were originally created so that they could produce fast adaptations to changes in their environment. As a result, all genomes contain variation-inducing genetic elements – sections of DNA that are specifically designed to produce changes that will aid in adaptation. He postulates that RNA viruses have been produced as a result of a corruption in certain variation-inducing genetic elements. This idea is intriguing because it solves the the RNA virus paradox, a recognized problem in the evolutionary literature.2
The real question, however, is what are the specific mechanisms by which this might happen? Exactly how could a beneficial microorganism (or genetic element) become pathogenic? As I was perusing the scientific literature the other day, I ran across an article in PLoS Genetics that might help us begin to answer that question.
The article discusses an analysis of a bacterium, Mycoplasma gallisepticum (MG), that is known to cause respiratory infections in turkeys and chickens. However, it was recently implicated in a brand new disease in house finches. The disease was first discovered in 1994, when thousands of house finches in the Washington, DC area died of a mysterious new eye infection. When the infection was investigated, scientists realized that MG had "jumped" species. It previously infected only poultry. Now it is infecting house finches, causing the new eye disease.
Obviously, the mechanics of how MG could make the switch from poultry to finches is critical to understanding the nature of pathogens, so Nigel F. Delaney and colleagues decided to study the genome of the MG that infects finches and compare it to the genome of the MG that infects poultry. The results were rather surprising. In order for MG to be able to infect finches, it had to lose genes! The researchers found that one of the most significant differences between the poultry-infecting MG and the finch-infecting MG is that the finch-infecting MG had lost about 50 genes.3
Now losing 50 genes is pretty significant, since the original MG had only about 1,000 of them to begin with. What genes were lost? That's the other surprising part. The genes that were lost were the ones MG uses as a part of its own immune system! You might not be aware of this, but bacteria have viruses that can infect them. The viruses are called bacteriophages, and most bacteria have an immune system that tries to fight them off. Obviously, you would expect such an immune system to be rather important for a bacterium, but in this case at least, it is not. Instead, by losing its immune system, MG developed the ability to infect an entirely new host.
How does losing its immune system help MG infect house finches? There isn't an answer to that question yet. However, I wonder if this is a clue as to how pathogenic bacteria arose in the first place. In order to provide a link between the physical environment and a macroscopic organism, a bacterium would need a whole host of genes. Some genes would allow it to live inside the macroscopic organism without being destroyed by the organism's immune system. Other genes would allow it to extract necessary chemicals from the physical environment, while still other genes would allow it to transfer those chemicals to the macroscopic organism. What would happen if it lost some of those genes? It might lose the ability to do anything useful for its host, and it also might gain the ability to jump to a completely different organism. In a completely different organism, the bacterium might produce devastating consequences, since its biochemistry wasn't designed for that organism.
So it is possible that many of the pathogenic organisms we see today are really just beneficial organisms that have lost sections of their genome. Obviously, it is too early to tell how likely this explanation is, but I think it is a fruitful area of research for some of the bacteriologists, virologists, and geneticists in the young-earth creationist community.
REFERENCES
1. Francis, J. W., "The organosubstrate of life: A creationist perspective of microbes and viruses," Proceedings of the Fifth International Conference on Creationism, R. L. Ivey, Jr., ed., Creation Science Fellowship 2003, pp. 434–444
Return to Text
2. Holmes E.C., "Molecular clocks and the puzzle of RNA virus origins," Journal of Virology, 77:3893–3897, 2003
Return to Text
3. Nigel F. Delaney, et. al., "Ultrafast Evolution and Loss of CRISPRs Following a Host Shift in a Novel Wildlife Pathogen, Mycoplasma gallisepticum," PloS Genetics, 8(2): e1002511. doi:10.1371/journal.pgen.1002511, 2012
Return to Text