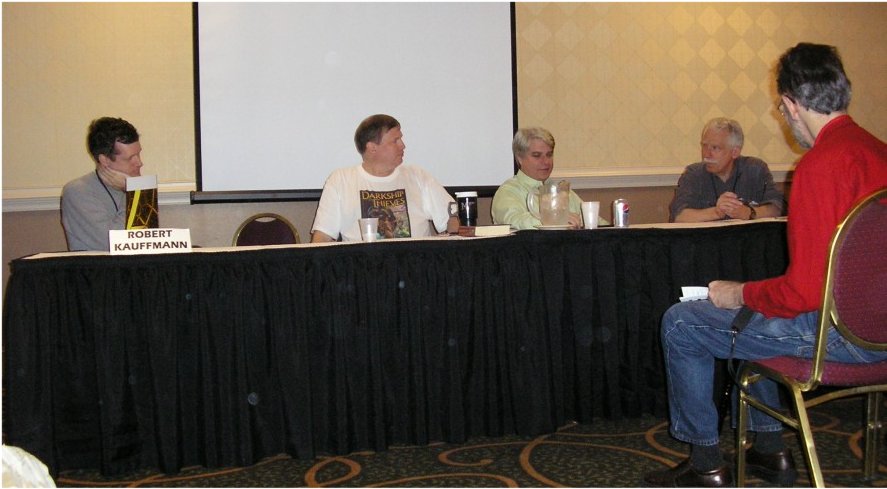 I have to warn you. This post is different from the normal fare you will find on this site. It represents more of an unfinished thought than an argument or an analysis. However, I want to share this unfinished thought with you, because I can't help but think that it might be important, at least in some way.
This past weekend, I attended a memorial service and wake for a man who was taken from this earth far too soon: James Jerald (JJ) Brannon. I met JJ at a science fiction convention that I speak at nearly every year. He was the cousin and dear friend of the man who invited me to participate in the conference, and he was also a speaker at the conference. In fact, we did several panel discussions together over the years, such as the one pictured above. That particular panel was about the diseases we might expect to see in the 21st century.
JJ was, in a word, unique. He had many awesome qualities, but he was, quite frankly, incredibly difficult to deal with. He often portrayed himself as an expert on subjects about which he was not well-educated, and unless you worked hard to hold him in check, he would monopolize any conversation he was a part of. He also went on and on and on and on and on when a subject was very important to him.
Now don't get me wrong. JJ was incredibly difficult to deal with, but he was also an amazing friend. I genuinely enjoyed seeing him, and I was truly fond of him. Also, he loved me and his other friends (and his family) fiercely. However, after spending a lot of time with him, I often found myself getting annoyed with him. His cousin (the friend who introduced us) often felt the same way. One thing he would often complain about is that when JJ called, it was never a short conversation. As I said, JJ could go on and on and on, especially when a subject really interested him.
When I went to his memorial service, I wasn't quite sure what to expect. What would people say about this wonderful but annoying man?
Well, to a person, everyone talked about how JJ loved his friends and family. More than once, it was said that he loved them almost to a fault. Everyone who spoke about JJ had to stop because of overwhelming emotion, and one of the speakers couldn't even finish. That's how much he was loved.
I noticed something else as well. I noticed that the same qualities that annoyed me (and others) were suddenly considered endearing. More than once, the people who spoke mentioned the long phone calls, and those in attendance laughed about them. It seemed like everyone in attendance would love to be on the other end of one of those annoying phone calls…now.
Please understand that the speakers were being truly sincere. They weren't trying to sugar coat things. They were honestly going to miss something that, had it happened the day before JJ died, they probably would have griped about. That's what death seems to do. It brings things into focus. Sure, JJ's long phone calls kept some from finishing the new season of Arrested Development on Netflix. Sure, JJ's long ramblings monopolized conversations. Sure, his attempts to "educate" you on issues he didn't quite understand were frustrating. Nevertheless, they were a part of this man we all loved, and now those things no longer exist, because the man we loved is no longer on this earth.
What's my point? I am not quite sure. It seems that JJ's death has "transformed" his annoying characteristics into endearing ones. I wonder how that relates to the transformation that death brings to our bodies, as discussed in 1 Corinthians 15:42-44. After discussing how a seed is planted and is transformed into something different, Paul tells us:
So also is the resurrection of the dead. It is sown a perishable body, it is raised an imperishable body; it is sown in dishonor, it is raised in glory; it is sown in weakness, it is raised in power; it is sown a natural body, it is raised a spiritual body. If there is a natural body, there is also a spiritual body.
Is the transformation of JJ's annoying habits into endearing ones a glimpse of the kind of transformation death brings to us? I don't know, but it's interesting to consider.
I can tell you one thing for certain: Like the people who spoke at JJ's memorial service, I truly wish I had the chance to be "annoyed" by him again. His death has brought into focus just how special those annoying moments were.