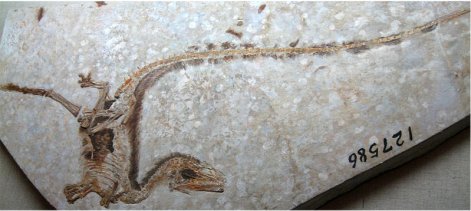 In 1996, a farmer and part-time fossil hunter in the Liaoning Province of China found a fossil that he recognized was rather unique. It had all the hallmarks of a dinosaur, but it had some "fuzz" on the head, neck, back and tail that looked like hair or feathers. Over the years, two distinct interpretations of this "fuzz" have emerged. Some scientists, like world-renowned paleornithologist Dr. Alan Feduccia, considers it to be nothing more than collagen fibers that remain from skin structures such as frills. Others, like paleontologist Dr. Mike Benton, think it is the remains of "protofeathers," an evolutionary precusor to bird feathers. Given the current "birds evolved from dinosaurs" craze, you can guess which view is held by the majority of those who have studied the fossil.
Of course, science is not done by majority vote. It is done by examining the data. So what do the data say about this "fuzz?" Well, in 2007, Feduccia and some colleagues published a study in the Proceedings of the Royal Society B. In that study, they examined the detailed structure of the "fuzz." They showed that its structure is exactly what you would expect for protein fibers that would be used to stiffen a system of frills. In addition, they say:1
The fibres show a striking similarity to the structure and levels of organization of dermal collagen. The proposal that these fibres are protofeathers is dismissed.
Of course, that's not the end of the story.
In 2010, Benton and colleagues published a study in the journal Nature. In that study, they claimed to have found melanosomes (pigment-producing organelles) in the "fuzz." In addition, they say that these melanosomes are nearly identical to what is found in the preserved feathers of early birds. They conclude that these results refute the claims that the "fuzz" is the remains of collagen fibers. Instead, the results show that it is the remains of protofeathers and:2
Furthermore, the data here provide empirical evidence for reconstructing the colours and colour patterning of these extinct birds and theropod dinosaurs: for example, the dark-coloured stripes on the tail of the theropod dinosaur Sinosauropteryx can reasonably be inferred to have exhibited chestnut to reddish-brown tones.
Since they published their results, some scientific illustrators have gone crazy, producing "reconstructions" of Sinosauropteryx that look like the one below: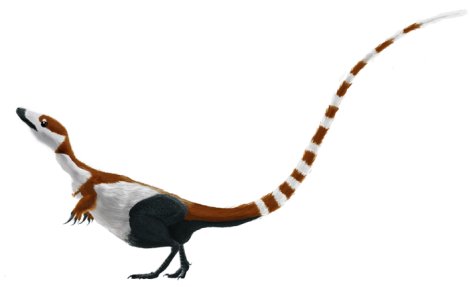 The problem is that Benton's conclusions are most likely wrong. As a result, reconstructions such as the one given above are, at best, fanciful. How do we know that Benton's study is probably wrong? Theagarten Lingham-Soliar, a colleague of Feduccia, has evaluated Beton's work and has found that its conclusions were based on an optical illusion as well as an inaccurate estimation of the size of the structures that were identified as melanosomes. In addition, his microanalysis shows that the "fuzz" has bead-like structures of the same shape and size as certain bands of collagen found in skin. He says:3
While feathers in birds and some non-avian dinosaurs may be correctly identified by melanosomes, in others, specifically in Sinosauropteryx, they are almost certainly not. Zhang et al.'s (2010) study does nothing to detract from previous conclusions based on a number of lines of evidence that the filamentous structures were in all probability collagenous. [internal references removed for clarity]
Is this debate over? Certainly not. However, I think that at this point, there are two "take-home messages." First, when you read about "feathered dinosaurs," remember that their existence is very much an open question. There are many experts who claim that they existed. There are other equally-qualified experts who say there is no strong evidence for their existence. Based on my non-expert reading of the literature, it seems to me that those who say there is no strong evidence for feathered dinosaurs have the best arguments. Second, whenever you see a "reconstruction" of a fossil, take it with a grain of salt. Even when reconstructions (such as the one given above) are based on evidence, it is often later shown that the evidence used is incorrect.
REFERENCES
1. Theagarten Lingham-Soliar, Alan Feduccia, and Xiaolin Wang, "A new Chinese specimen indicates that 'protofeathers' in the Early Cretaceous theropod dinosaur Sinosauropteryx are degraded collagen fibres," Proceedings of the Royal Society B 274:1823-1829, 2007
Return to Text
2. Zang F, Kearns SL, Orr PJ, Benton MJ, Zhou Z, Johnson D, Xu X, and Wang X, "Fossilized melanosomes and the colour of Cretaceous dinosaurs and birds," Nature 463:1075-1078, 2010
Return to Text
3. Theagarten Lingham-Soliar, "The evolution of the feather: Sinosauropteryx, a colourful tail," Journal of Ornithology 152(3):567-577, 2011
Return to Text