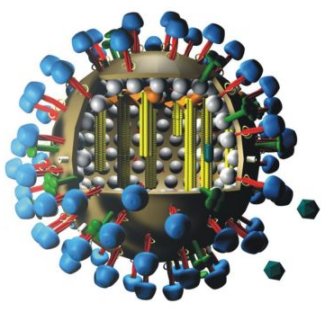 It is generally assumed by evolutionists that natural selection tends to "weed out" harmful mutations. After all, if a mutation is harmful to an organism, that organism will be less fit to survive and less likely to pass on that mutation to its progeny. While this idea makes perfect sense, it is not clear how effective natural selection can be at its job.
In his book Genetic Entropy and the Mystery of the Genome, award-wining geneticist and young-earth creationist Dr. John C. Sanford argues that most mutations simply don't produce a strong enough effect to influence natural selection. As a result, organisms continue to build up deleterious mutations as time goes on. This leads to an erosion of the genome. As he puts it:1
While selection is essential for slowing down degeneration, no form of selection can actually halt it. I do not relish the thought, any more than I relish the thought that all people must die. The extinction of the human genome appears to be just as certain and deterministic as the extinction of stars, the death of organisms, and the heat death of the universe. (emphasis his)
While he quotes a lot of experimental research to support his findings, he has never been able to demonstrate this effect directly…until now. He obviously hasn't shown that the human genome is deteriorating, but last year he and young-earth creationist Dr. Robert W. Carter published (in a standard, peer-reviewed journal) the results of some of their research, which directly demonstrate that even when natural selection is working hard, it doesn't seem to do a good job of getting rid of harmful mutations.
Carter and Sanford looked at how the genome of the H1N1 influenza virus has changed over time. The virus genome is fairly simple – it is made up of eight RNA segments that contain a total of 13,100 nucleotide bases. These eight segments code for up to eleven distinct proteins, since there are ways (like alternative splicing) that a single segment can code for more than one protein.
Believe it or not, there are published genomes of the influenza virus dating back to 1918! Obviously, people didn't sequence the virus genome back then. However, samples of lung were taken from the frozen remains of someone who died of influenza at Brevig Mission, Alaska, in November of 1918. This sample and other preserved samples allowed scientists to sequence the genome of the virus from that time period. As the link discusses, when the 1918 virus was reconstructed based on this sequence, it was found to be much more virulent than current flu viruses. For example, mice who were exposed to the 1918 virus died, even though modern influenza viruses are not lethal to the same breed of mouse.
Why is the 1918 strain significantly more lethal? According to Carter and Sanford, it is because the virus has been accumulating mutations steadily since that time. Indeed, they show that the mutation rate of the influenza virus over time is remarkably constant. Most of those mutations are deleterious, but not so much that they can be weeded out by natural selection. As a result, the genome of the influenza virus is deteriorating, despite the natural selection that is clearly going on in the constant battle between the virus and the human immune system. They interpret their results as follows:2
We suggest that, while specific adaptive mutations commonly occur within the H1N1 virus, many more deleterious mutations are accumulating than beneficial mutations, even when there is strong selection. Consequently, H1N1 appears to have been in very gradual error catastrophe throughout its history.
In other words, even though natural selection was hard at work since 1918, it has not been strong enough to get rid of the deleterious mutations that have occurred throughout the virus's 90+ year history. Because of this, the virus is becoming weaker.
If this idea is correct, it solves a puzzle that has plagued influenza research for more than 50 years: Why hasn't any influenza outbreak in modern times matched the virulence of the 1918 pandemic? Researches have suggested that a combination of factors like herd immunity, advances in medicine, and advances in hygiene might explain this fact. In their paper, however, Carter and Sanford address each of these issues, suggesting that they have clearly played a role in the reduction of influenza virulence, but they cannot be completely responsible. Specifically, they argue that the steady decrease in virulence does not match the pattern one would expect from such factors. However, it does match the pattern expected from the accumulated mutation rate that their analysis shows.
Are Sanford and Carter correct in their contention that the influenza virus has actually gotten weaker over time? I have no idea. However, their data do seem to make a strong case for the fact that natural selection just wasn't very good at getting rid of the deleterious mutations that happened over and over again throughout the known history of the virus. I hope this kind of study can be done for other cases to see whether or not it is a general trend.
For right now, however, I will have to say that Sanford's contention that genomes deteriorate over time, despite the work of natural selection, now has even more evidence in its favor.
REFERENCES
1. John C. Sanford, Genetic Entropy and the Mystery of the Genome, Elim Publishing 2005, p. 83
Return to Text
2. Robert W Carter and John C Sanford, "A new look at an old virus: patterns of mutation accumulation in the human H1N1 influenza virus since 1918", Theoretical Biology and Medical Modelling, 9:42, 2012 (Available online)
Return to Text