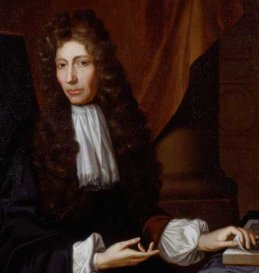 Robert Boyle (1627 – 1691) is generally considered to be one of the founders of modern chemistry. He took the study of how matter changes out of the mystical realm of alchemy and turned it into a scientific endeavor. He is known by nearly every freshman chemistry student as the author of Boyle's Law, which tells us how a gas behaves when its pressure changes. In addition to being a brilliant scientist, he was also a devout Christian, and he saw the pursuit of science as a way of learning more about the majesty of God. Here is how he put it:1
"…when, in a word, by the help of anatomical knives, and the light of chymical furnaces, I study the book of nature and consult the glosses of Aristotle, Epicurus, Paracelus, Harvey, Helmont, and other learned expositors of that instructive volume, I find myself oftentimes reduced to exclaim with the Psalmist, How manifold are Thy works, O Lord! In wisdom hast Thou made them all!"
Even though he was a firm believer in Christ, he was an advocate of doubt. In fact, his most famous work is a book entitled The Sceptical Chymist. In addition to his published works, he kept of series of "work diaries" in which he wrote down his daily thoughts. One of the entries reads as follows:2
He whose Faith never Doubted, may justly doubt of his Faith.
We don't know whether this is something Boyle came up with on his own or whether he read it and thought it was worth noting in his diary. Regardless, we know it was important enough to him that he wanted to record it. This seems to indicate that Boyle thought doubt was not only a necessary part of science, but it was also a necessary part of the Christian faith.
Why am I writing about Robert Boyle and doubt? Because it relates to the results of a recent survey of college students in the United States.
In the fall of 2004, Kara Powell and Krista Kubiak, under the direction of Dr. Cameron Lee, sent a survey to 234 college students who had graduated from the youth ministry of a Presbyterian church within the previous four years. They received 69 of the surveys back, which is a rather small sample. Nevertheless, they did find something interesting in the results, and I think it is worth mentioning. As one of the co-authors said:
One of the most interesting findings…was the importance of doubt in a student's faith maturity. The more college students felt that they had the opportunity to express their doubt while they were in high school, the higher levels of faith maturity and spiritual maturity [they had].
This, of course, is precisely what Boyle's diary entry suggests. If you don't doubt your faith, your faith is not very strong. However, if you doubt your faith, express your doubts, and work through them, you end up having a much more mature faith.
What's the take-home message of this survey? High school students should be brought up in an environment where asking tough questions about faith is not only allowed, but encouraged. They should be encouraged to be honest about their doubts and discuss them with those who are more experienced and knowledgeable in whatever subject relates to them. In other words, rather than simply telling students what to believe, you need to encourage students to explore their faith, express their doubts, and find answers. That's how students will come to own their faith, and in the long haul, those students will become more mature in their faith.
Too often we are afraid to let students ask the tough questions. Maybe it's because we don't think we have the answers. Maybe it's because we never really dealt with our own doubts properly. Maybe it's because we just don't want to "rock the boat." Maybe it's because we are afraid our children might believe differently from what we believe. Whatever the reason, squelching doubt is not the way to produce a robust faith. Robert Boyle understood that more than 350 years ago. Hopefully, the results of this survey will help others understand it today.
REFERENCES
1. Francis Wrangham, The British Plutarch, Volume 4, 1816, pp. 368-369
Return to Text
2. Robert Boyle, Diurnall Observations, Thoughts & Collections Begun at Stalbridge April 25th 1647, Entry 24, 1647 (available online)
Return to Text