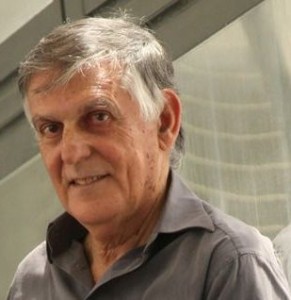 Dr. Dan Shechtman is a courageous scientist. Starting in 1975, he was on the faculty at Technion, the Israel Institute of Technology. He taught in the department of materials engineering, which investigates how the atomic structure of a material affects its observable properties. Back in the early 1980s, he spent his sabbatical at Johns Hopkins University, where he studied rapidly-solidified alloys of aluminum, and he discovered something that was revolutionary. It was so revolutionary that when he first saw it, he said to himself:
Eyn chaya kazo
which is Hebrew for "There can be no such creature." Nevertheless, the more he studied, the more he was convinced of what he saw.
What revolutionary thing had Dr. Shechtman discovered? He discovered a kind of crystal that the scientific consensus said could not possibly exist. Until Dr. Shechtman's discovery, it was thought that when substances form crystals, their atoms form an arrangement that is both ordered and periodic. An ordered arrangement just means there is a discernible pattern to the arrangement, and a periodic arrangement is one that repeats the same pattern in all directions. Thus, once I find the basic unit of a crystal's pattern (called the "unit cell"), I can tell you what the entire crystal looks like by just repeating that pattern over and over again in three-dimensional space.
Well, chemists have been studying crystals for a long, long time, and because of the way atoms pack together, the mathematics of an ordered, periodic arrangement of atoms has been thoroughly worked out. These mathematics produced an absolute statement: There are only certain possible patterns for crystals. Some crystals can be rotated by one-half and end up looking the same as they did before they were rotated. Others can be rotated by one-fourth and end up looking the same as they did before. Others can be rotated by one-sixth and end up looking the same as they did before. However, it is impossible, quite impossible for a crystalline substance to have a structure that can be rotated by one-fifth or one-tenth and end up looking the same as it did before. Such atomic arrangements, called quasicrystals, simply cannot exist in this universe.
Nevertheless, that's what Dr. Shechtman saw. Some of the crystals he saw forming in his experiments were quasicrystals. They were ordered, but not periodic. As a result, they had a structure that could be rotated by one-fifth or one-tenth and end up looking the same as it did before. As is typical for most scientists, he was initially very skeptical. But as he continued his experiments, he became more and more convinced of what he saw. Thus, as is typical for most scientists, he decided to communicate his findings to others.
That's when the trouble began.
You see, the scientific consensus was quite clear. It was an indisputable scientific fact that quasicrystals simply cannot exist. All available scientific data demonstrated this to be true. As a result, it was clear to many scientists that Shechtman was a kook. He was clearly on the fringe of science and, as a result, his work merited no further investigation. Dr. Linus Pauling, himself a Nobel Laureate in chemistry, said:
There is no such thing as quasicrystals, only quasi-scientists.
Even the head of Dr. Shechtman's own research group told him that he should go back and read a crystallography textbook. He then asked Shechtman to leave the group for "bringing disgrace" on the team. Nevertheless, Shechtman persevered. After two years of fighting, he finally got his research published, and slowly, other labs began to replicate his findings. In the end, we now know that Dr. Shechtman was right, and the scientific consensus was wrong. We now know that even a scientific giant like Dr. Linus Pauling can be wrong when he follows the scientific consensus rather than the data. Indeed, Dr. Shechtman's discovery of quasicrystals is now recognized as so important that he was awarded this year's Nobel Prize in chemistry.
The good news about Dr. Shechtman is that his work was easy to test, so it didn't take long for those who are slaves to the scientific consensus to be forced to conclude that the scientific consensus was wrong. Unfortunately, other scientific issues (such as evolution, global warming, etc.) aren't as easy to test. As a result, slaves to the scientific consensus are free to be as arrogant and unscientific as Pauling was to Shechtman. That is unfortunate, but it seems to be the way science works right now.
I just hope that Dr. Shechtman's story will show the more scientifically-minded people out there that being a slave to the scientific consensus not only has the ability to make you look like a fool, it has the ability to impede science. The next time you hear "scientific giants" ridiculing creationists and intelligent design advocates, you can at least think about Dr. Dan Shechtman. At one time, he was considered as much of a kook as those people. Now he has a Nobel Prize.