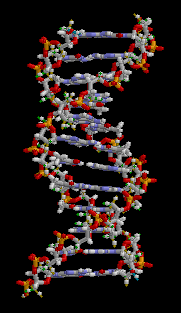 As I mentioned previously, Dr. Peter Borger has an amazing series of articles on genetics over at Creation Ministries International's website. He is putting together a very impressive interpretation of the genome based on what has been learned about genetics over the past few years. He starts his series with a discussion of genetic redundancy, which is truly incredible.
The article begins by discussing something that has been known for quite some time: It is possible to disable a gene so that it no longer produces the protein it is supposed to produce. This technique is called gene knockout, because it as if the gene has been "knocked out" of the organism's genome. The organism is referred to as a knockout organism or just a knockout.
Why would you study a knockout organism? Well, imagine that you have identified a gene but don't really know what it does for the organism. If you create a version of the organism with that gene knocked out, any negative effects that you see will most likely be the result of the missing gene, so that will give you some idea of what the gene does.
This is a great experimental procedure that has produced a lot of genetic understanding over the years. However, it has also produced a very interesting result: often a knockout organism is not significantly different from the standard (usually called wild-type) organism. In other words, some genes can be knocked out of an organism with little or no effect on the organism itself.
This might sound surprising to someone who is not familiar with the genetics literature, but it really isn't. In fact, geneticists thought they had an explanation for this interesting result…until experiments over the past decade or so really upset the applecart.
In his article, Dr. Borger discusses several of these experiments, but I want to concentrate on just one of them. It is a ten-year-old study of yeast (Saccharomyces cerevisiae) knockouts, and the results are truly stunning.
Before I discuss the results of the study, let me explain how geneticists thought they could understand the fact that many knockout organisms are not significantly different from their wild-type counterparts. It is well known that genes can duplicate, and that duplication is supposed to be one of the principle means by which evolution occurs. After all, if a gene duplicates, the duplicate can supposedly mutate away unfettered by selection, because the original is still producing the needed protein. This unfettered mutation can eventually cause the duplicated gene to become a completely different gene, thus allowing information to be added to the genome. As I have mentioned previously, however, a recent study casts doubt on this speculative mechanism.
However, even if gene duplication is not a good explanation for how information might get added to a genome, it was thought to be a good explanation for the fact that some genes can be knocked out of an organism without significantly affecting it. After all, if that gene has a duplicate, it doesn't matter if it is knocked out. The duplicate can take over. As long as the duplicate hasn't mutated a lot from the original, it will end up producing a protein that can at least mostly do the job that the knocked out gene's protein is supposed to do.
Well, the study linked above (originally published in Nature Genetics) tested this explanation and found it to be incredibly lacking. Basically, it looked at how well different knockout yeast survived in five different environments. The author makes a good case that the five environments he chose would be able to test a wide range of survivability issues in the yeast. As expected, he found that knocking out some genes produced severely negative results for survivability, knocking out some genes produced partially negative results for survivability, and knocking out some genes had no significant effect on survivability.
Next, he correlated those results with whether or not the gene had a duplicate, and if it had a duplicate, how many duplicates existed. Now, of course, because of mutation, it is assumed that a duplicate will not be an exact match to the original gene. Thus, what the author really did was look for paralog genes – genes that look so similar to the original that they are assumed to be the result of duplication followed by mutation.
Here's what he found:
When compared with genes whose loss of function results in severe fitness defects, genes whose loss of function results in a weak or no fitness effect are not more similar to their closest paralogues, both in sequence and temporal expression pattern. They are also not part of larger gene families whose members are, on average, more similar in sequence or expression to the gene mutated. Furthermore, they are not related to other yeast genes in about one-half of the cases studied.
If you are having trouble dealing with the jargon, let me boil it down. In roughly half of the knockout genes that had no effect on survivability, there were no paralogs. Thus, there is simply no way the standard explanation based on gene duplication could be right for those genes. In addition, for the other half of the knockout genes that didn't affect survivability, there was no pattern in terms of how many paralogs existed or how close the paralogs were to the original gene. If gene duplication were the answer to this issue, then one would think that the closer a gene was to its duplicate, the weaker the effect associated with knocking out the gene. In the same way, the more duplicates that exist, the weaker the effect associated with knocking out the gene. His experiment saw none of these expected results. That's why he concludes:
Thus, although gene duplications may be responsible for a fraction of weak null-mutation phenotypes they contribute little to mutational robustness on a genomic scale.
So what is the proper explanation for the fact that knocking out some genes has little or no effect on survivability? Well, in Dr. Borger's opinion, it is that the genome is made up of many networks of redundant genes. As he says, many genes
are involved in regulatory networks that detect and process information in order to keep the cell informed about its environment. The proteins operating in these networks come as large gene families with overlapping functions. In a cascade of activation and deactivation of signalling proteins, external messages are transported to the nucleus with information about what is going on outside so it can respond adequately. If one of the interactions disappears, this will not immediately disturb the balance of life. The buffering capacity present in redundant genetic networks also provides the robustness that allows living systems to propagate in time.
Now what does that sound like to you? It sounds like an engineered system. A good engineer will design a system with redundancies. The more important it is for the system to stay functional, the more redundancies the engineer will put in the system. Based on the latest genetic studies, genomes seem to be highly redundant systems that are best explained by design.