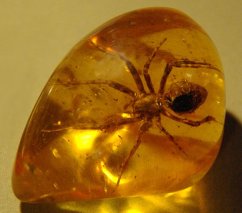 Many trees produce resin, a thick liquid that typically oozes from wounds in the tree. While some scientists view resin as a waste product of the tree, resins have been shown to protect certain trees from insects, fungi, and other pests.1 Thus, resin is probably something purposefully produced by the tree.
If resin hardens, it forms amber, which is considered valuable both as a component for jewelry as well as a means by which fossils can be preserved. The photo above, for example, shows a spider that has been remarkably well-preserved by amber. It is assumed that the spider was trapped in a tree's resin, and then the resin hardened around the spider. Because this forms a nearly airtight container, decomposition is greatly reduced, allowing for the formation of an incredibly well-preserved fossil.
Not surprisingly, different kinds of trees will produce different kinds of resin, which leads to different kinds of amber. Currently, there are five known classes of amber, based upon the specific chemical compounds that make up the amber. It has been generally thought (quite reasonably) that the chemicals in the amber are reflective of the kind of tree that originally produced the resin. However, that thinking will have to change in order to preserve the hypothesis of evolution.
In October of 2009, the journal Science published a report by P. Sargent Bray and Ken B. Anderson that discusses some amber they found. Chemical analysis puts the amber in a particular class that is supposed to have been formed by trees that make flowers. All flower-producing plants are called angiosperms, so this amber has all the characteristics of having been made by an angiosperm.2
There's just one problem. The amber was found in Carboniferous rock that is supposed to be 320 million years old. Angiosperms supposedly evolved only about 140 million years ago. Thus, this amber is about 180 million years "too early" in the fossil record. How do the authors get around this inconvenient fact? Very easily:
Our data do not imply that angiosperms existed in the Carboniferous, because the fossil record does not record unequivocal angiosperm fossils until the Cretaceous. However, our data do suggest that the divergence of the biosynthetic mechanisms needed to produce resins based on regular and enantio-series labdanoid diterpenes predates both the emergence of true conifers and the differentiation of angiosperms and gymnosperms.
Don't get lost in the jargon and miss what the authors are saying here. They are basically saying that because angiosperms don't "belong" in the kind of rock this amber was found in, they are forced to ignore the clear chemical evidence that this amber was made by an angiosperm. Instead, they must assume that the complex chemical mechanisms by which resin forms evolved prior to the appearance of true conifers (cone-making trees like evergreens) and angiosperms (flower-making plants).
That's not enough, however. They must also assume that the chemistry of amber is not reflective of the kind of tree that produced it in the first place. As a commentary that appears in the same issue of Science notes:3
The discovery by Bray and Anderson reveals that resins of extremely similar molecular composition can be produced by entirely unrelated plants. This astonishing evolutionary convergence at the molecular level presents a cautionary message to those who study amber. It is standard practice to assign the botanical origins of an amber deposit to a genus or family of plants based just on the amber chemistry. (emphasis mine)
So what does an evolutionist do when a fossil find contradicts his treasured hypothesis? He just waves the magic wand of "convergent evolution." Remember, similarities between species are strong evidence for evolution, except when the hypothesis of evolution cannot accommodate them. When that happens, the similarities are a result of "convergent evolution," a process by which species have similarities based on sheer coincidence alone.
So in this case, the fact that the amber has all the chemical features of being made by an angiosperm must be ignored. Instead, because the amber appears "too soon" in the fossil record for angiosperms, we must assume that it was made by something other than an angiosperm. Furthermore, we must assume that the similarities between its chemistry and the chemistry of resin made by angiosperms is the result of sheer coincidence.
That's the kind of mental gymnastics it takes to be an evolutionist today.
REFERENCES
1. Jean H. Langenheim, Plant resins: Chemistry, Evolution, Ecology, and Ethnobotany, Timber Press, 2003, pp. 196-254
Return to Text
2. P. Sargent Bray and Ken B. Anderson, "Identification of Carboniferous (320 Million Years Old) Class Ic Amber," Science, 326:132-134, 2009 (Available online)
Return to Text
3. P. David Grimaldi, "Pushing Back Amber Production," Science, 326:51-52, 2009 (Available online)
Return to Text