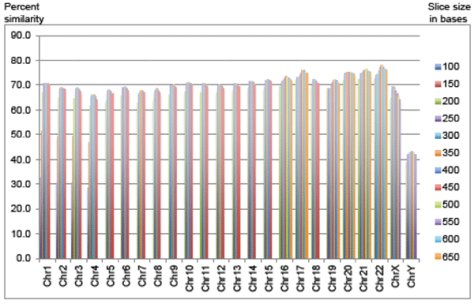 PLEASE NOTE: The results of this study are known to be wrong due to a bug in the computer program used. A new study that uses several different computer programs shows an 88% overall similarity.
I have written about the similarity between human and chimpanzee DNA three times before (here, here, and here). It's an important question for creationists, intelligent design advocates, and evolutionists alike, since the chimpanzee is supposed to be the closest living relative to human beings. As a result, a comparison of chimp DNA to human DNA gives us some idea of what the process of evolution would have to accomplish to turn a single apelike ancestor into two remarkably different species like chimpanzees and people.
Early on, it was widely thought that human DNA and chimp DNA were 99% similar. As I discussed in my first post on this subject, that was based on a very limited analysis of only a minute fraction of human and chimp DNA. Now that the entire set of nuclear DNA (collectively called the "genome") of both humans and chimpanzees have been sequenced, we now know that the 99% number is just plain wrong. Interestingly enough, however, even though both genomes have been fully sequenced with a reasonable amount of accuracy, no one can agree on exactly how similar the two genomes are.
Why is that? Because comparing genomes is a lot harder than you might think. While we know the sequence of the chimp and human genomes really well, we don't understand the DNA itself. Indeed, there are large sections of DNA that seem to be functional, but we simply have no idea what they do. As a result, comparing the genomes of two different species can be very, very tricky.
Probably one of the best explanations of just how tricky DNA comparison is comes from Dr. Richard Buggs, a geneticist at Queen Mary, University of London. Back in 2008, he wrote about the steps he would take to compare the human and chimp genomes, and if you read his explanation, you will get an idea of how difficult such a comparison is. His conclusion was:
Therefore the total similarity of the genomes could be below 70%.
Since that time, the chimpanzee genome has been sequenced to an even better degree, and other methods have been used in an attempt to determine the similarity between the chimpanzee and human genomes. One of the more popular methods is based on an algorithm called BLAST, which chops up DNA (or proteins) into small segments and then tries to compare them to the segments on a different set of DNA (or proteins). This seems like the most "generous" way to compare two genomes, because it doesn't require one genome to be structured similarly to the other. The only thing that matters is whether a bit of information in one genome can be found anywhere in the other genome.
Using this method to determine the similarity between the human and chimp genome, researchers have come up with different answers. Dr. Todd Wood, an expert in genome comparison and former Director of Bioinformatics at the Clemson University Genomics Institute, did a BLAST analysis that indicated human and chimp DNA are roughly 95% similar. However, Dr. Jeffrey P. Tomkins, former director of the Clemson University Genomics Institute, did a different BLAST analysis and concluded that the similarity was 86-89%.
Well, Dr. Tomkins just published a new study, and as far as I can tell, it makes the most sense of any BLAST analysis done so far. In this study, he chopped up the chimpanzee genome into "slices" that were as small as 100 base pairs long or as large as 650 base pairs long. The chimpanzee genome is 2.9-3.3 billion base pairs long, so obviously these slices are incredibly small compared to the entire genome. He then looked for each "slice" on the human chromosome that is supposed to correspond to the chimp chromosome where the slice was found. The two slices didn't have to match exactly; they just had to be similar enough to think that they could be related to each other.
The graph at the top of this post shows his results. Notice that the similarity hovers around 70% for all chromosomes except the Y chromosome. The size of the "slice" affects the result a bit, but really not much. In the end, this leads Dr. Tomkins to conclude:
Genome-wide, only 70% of the chimpanzee DNA was similar to human under the most optimal sequence-slice conditions. While chimpanzees and humans share many localized protein-coding regions of high similarity, the overall extreme discontinuity between the two genomes defies evolutionary timescales and dogmatic presuppositions about a common ancestor.
Is this the last word on the subject? Most certainly not. I think it is probably the best comparison attempt made so far. Also, the fact that the Y chromosome has a remarkably low level of similarity compared to the other chromosomes is consistent with another study. In addition, the results essentially agree with Dr. Buggs's analysis, which was based on a completely different strategy. At the same time, however, there is a huge discrepancy between this analysis and Dr. Wood's analysis. In addition, as we learn more about genomes and how they work, we will probably find better ways to compare the genomes of different organisms.
For right now, however, it seems clear that humans and chimpanzees are not nearly as genetically similar as most evolutionists would have us believe.