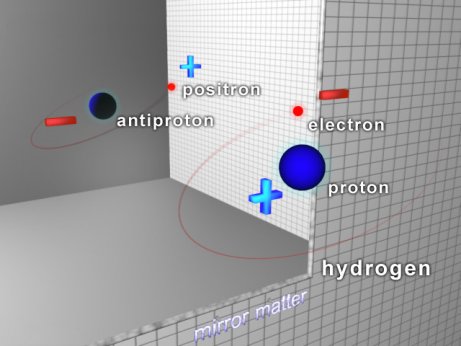 Although the term "antimatter" might sound like something from Star Trek, it is actually quite real. When I do nuclear chemistry experiments, for example, one of the ways I calibrate certain detectors is to use a radioactive sodium-22 source. One of the ways this isotope decays is by emitting the antimatter version of the electron (called a positron). That positron rather quickly finds an electron, and they annihilate each other, which results in two high-energy photons where there was once matter and antimatter. The energy of those two photons is well known, so they can be used to calibrate detectors.
Of course, this points to a big problem when it comes to studying antimatter – it doesn't stick around very long. Since there is all sorts of matter around, any antimatter that gets produced rather quickly finds some matter, and annihilation is usually what results. Nevertheless, some scientists try to do all that they can with antimatter for whatever brief time is available to them.
One of the cool things you can do with antimatter is make anti-atoms. For example, consider boring old hydrogen. It consists of a single proton that is orbited by a single electron. How could you possibly spice that up? What about making anti-hydrogen? Take a positron (remember, that's the antimatter version of an electron) and force it to orbit the antimatter version of the proton (which is called an antiproton). You now have the antimatter version of a hydrogen atom! Believe it or not, that has actually been done before. In the lab, scientists have made anti-hydrogen atoms. The problem is that none have been able to preserve the anti-hydrogen they have made for more than a fraction of a second.
Now a group of scientists at the European particle physics lab called CERN has managed to make anti-hydrogen and preserve it for the impossibly long time of fifteen minutes!1
Why am I excited about this? Well, first of all, it is just plain cool that we can make the antimatter version of an atom and then keep it around for such a long time. The second reason, which is far more important, is that it will allow us to test a key assumption of Einstein's special theory of relativity.
Now remember, Einstein had two theories of relativity. The first one (special relativity) compared systems that are moving relative to each other at a constant velocity. This is the theory that tells us things like as your speed increases, time passes more slowly for you than it does for someone at rest relative to you. His general theory of relativity is based on special relativity, but is a theory of how gravity works. It led to the concept that time passes more slowly the stronger the gravitational field.
One of the very important assumptions behind special relativity is that there is symmetry to space and time. This symmetry ends up playing out in many ways, but one of them is that the antimatter version of an atom should have the same fundamental properties as the regular version of the atom.2 Unfortunately, because scientists haven't been able to keep anti-atoms around very long, they haven't been able to test it.
So now that scientists can keep anti-hydrogen atoms around for a long time, what will they do to test this assumption? Most likely, they will look at how it absorbs light. We have studied how the hydrogen atom absorbs light for a long time, so we know that really well. According to the symmetry demanded by special relativity, anti-hydrogen should absorb light in exactly the same way. Any deviation beyond experimental error will be a huge blow to relativity, as well as many other theories of matter.
I personally think that relativity has to be correct, since there is so much experimental evidence in its favor. However, it is important to test the key assumptions of any theory whenever possible. I look forward to seeing how this test turns out!
REFERENCES
1. "News of the Week," Science 332:1248, 2011.
Return to Text
2. Raymond A. Serway, Clement J. Moses, and Curt A. Moyer, Modern Physics, Brooks Cole 2004, p. 289
Return to Text