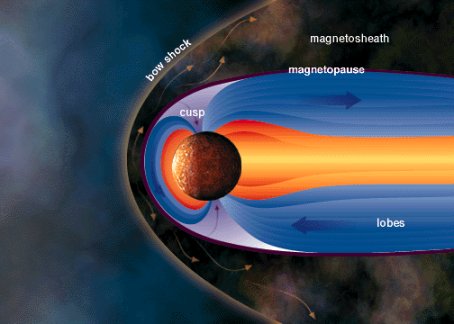 One of the many scientific successes of young-earth creationism involves planetary magnetic fields. In 1984, Dr. Russell Humphreys produced a model of planetary magnetic fields that not only explained the data that were available at the time, but it also made several predictions.1 Over the years, many of those predictions have been borne out by the data (see here and here, for example). Compare this to the old-earth theory, which continues to struggle in accommodating the data that we already know (see here and here, for example).
Not content to rest on his laurels, Dr. Humphreys has continued to use his successful model to make more predictions. One of his recent predictions involved what MESSENGER (the latest unmanned spacecraft to visit Mercury) would learn when it measured Mercury's magnetic field. The last spacecraft to visit Mercury was Mariner 10 back in 1974-1975, and based on some assumptions, it was able to measure Mercury's magnetic field. Since that measurement was made more than 35 years ago, and since the young-earth model predicts that all planetary magnetic fields should decay fairly rapidly, Humphreys used his young-earth model to predict that Mercury's magnetic field should have decayed by 4-6 percent since Mariner 10's previous measurement. By contrast, the old-earth model predicted no measurable change.
Nearly five months ago, I wrote about the scientific paper that had been written regarding MESSENGER's measurement. The main conclusion from the paper was that the shape of Mercury's magnetic field is completely unlike what was assumed in the Mariner 10 measurement. As a result, I concluded that the new measurement could not be compared to the old one. That, of course, was a disappointing conclusion, since I was very interested in finding if the young-earth planetary magnetic field model was successful in yet another one of its predictions.
Interestingly enough, the first comment on the post suggested that the old Mariner 10 data should be reanalyzed now that we know the shape of Mercury's magnetic field. That way, a proper comparison of the two measurements could be made. At the time, I suggested that the raw data probably still existed, but it might be hard to retrieve because of the changes that had taken place in computer technology. As a result, I wasn't sure whether or not such a reanalysis could be done.
Well, even though a reanalysis of the raw data hasn't been done, Dr. Humphreys has done the next best thing, and it does seem that the data at least partially confirm his prediction.
Dr. Humphreys does not have access to the raw Mariner 10 data. However, like all of us, he does have access to the original paper that reported the result.2 In order to make a somewhat reasonable comparison, he found the maximum magnetic field strength measured by Mariner 10 in 1975 and noted the latitude of Mariner 10 and its distance from Mercury at closest approach. In other words, he found Mariner 10's maximum value and the perspective it had when it probably made that measurement. He then looked at the MESSENGER paper and determined the maximum value that MESSENGER had measured as well as its latitude and distance from Mercury when that measurement was made. In other words, he also found MESSENGER'S maximum value and the perspective it had when it made that measurement.
He then used the shape of the magnetic field as determined by MESSENGER to determine what MESSENGER would have seen if it been at the same latitude and distance from Mercury as Mariner 10 had been. In other words, he used the shape of the magnetic field as determined by MESSENGER to "change MESSENGER's perspective" to the same perspective that Mariner 10 had. When he did that, he found that Mariner 10's measurement was 7.8% +/- 0.8% higher than what MESSENGER would have measured had it matched Mariner 10's flight pattern.3
Now admittedly, this comparison is far from perfect. Rather than looking at the raw data, Dr. Humphreys was forced to read from graphs and make certain assumptions. For example, he had to assume that Mariner 10's maximum measurement was made at its closest approach. He also had to assume that Mercury's magnetic field shape had not changed significantly in more than 35 years. Nevertheless, given what is available, it is the best that can be done right now. Based on that, then, Mercury's magnetic field has declined since 1975.
Now please understand that this is only a partial confirmation of the young-earth prediction. The decline is more than what the young-earth model predicted, which was 4%-6%. Dr. Humphreys suggests some possibilities to explain this discrepancy, including the idea that radioactive isotopes could be heating Mercury's core, making its resistance higher and thus reducing the magnetic field more rapidly than his model suggests.
Personally, I think that there is enough error associated with this type of analysis that his reported error of 0.8% is overly optimistic. Thus, the decline might be consistent with his prediction, or it might be significantly greater than his prediction. At the same time, however, I don't think there is enough error to make the decline equal to zero, which was the prediction of the old-earth model. Thus, while these data are not a complete confirmation of the young-earth prediction, they do indicate that the young-earth model is in better agreement with the measurements than the old-earth model.
I would like to make one other point. The young-earth model has the magnetic field originating so that it is centered on the planet's core. However, MESSENGER'S measurement shows that the magnetic field is offset north of that point. Thus, the young-earth model must come up with a reason for this offset. Humphreys mentions this in his paper, and he suggests that perhaps a difference in the electrical resistance between Mercury's inner core and outer core could explain how the magnetic field came to be offset over time. I would have to see more detail in order to understand how that would work, so at this point, I would chalk the offset of the field up as a problem for the young-earth model.
I do think that, on balance, Humphreys has shown that his young-earth model is at least more consistent with MESSENGER's measurement than is the old-earth model. As a result, I would say that MESSENGER's data can be counted as a partial victory of the young-earth model over the old-earth model. Hopefully, as time goes on, more data will allow us to determine exactly how much of a victory it is.
REFERENCES
1. D. Russell Humphreys, "The Creation of Planetary Magnetic Fields," Creation Research Society Quarterly, 21, 1984 (available online).
Return to Text
2. Ness, N.F., "The Magnetic Field of Mercury," Physics of the Earth and Planetary Interiors, 20:209-217, 1979.
Return to Text
3. D. Russell Humphreys, "Mercury's Magnetic Field is Fading Fast – Latest Spacecraft Data Confirm Evidence for a Young Solar System," Journal of Creation, 26(2):4-6, 2012.
Return to Text