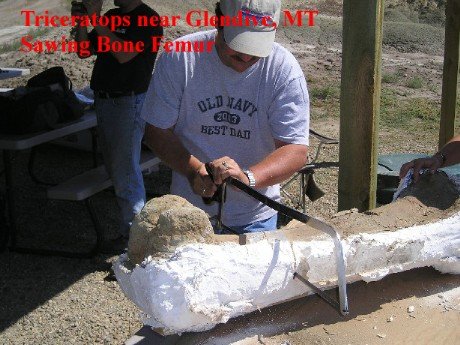 As I have noted previously, it's a wonderful time to be a young-earth creationist. All sorts of interesting data are being uncovered that challenge the supposedly "rock-solid" idea that the earth is billions of years old. One of the more recent developments is the carbon dating of bones and other carbon-containing materials that are supposedly millions of years old. Carbon dating uses the radioactive decay of carbon-14 into nitrogen-14, which currently has a half-life of 5,730 years. This means that in old-earth terminology, carbon-14 decays "quickly." Thus, if a bone (or some other material that is made of carbon) is really millions of years old and hasn't been contaminated, you wouldn't expect to find any carbon-14 in it. The carbon-14 should have long since decayed to the point where it is no longer detectable, even with the best scientific instruments we have today.
However, creation scientists have carbon-dated fossils, diamonds, and coal that are all supposed to be millions of years old. Nevertheless, they all have detectable amounts of carbon-14 in them. For example, this study shows detectable levels of carbon-14 in a range of carbon-containing materials that are supposedly 1-500 million years old. Surprisingly, the study includes diamonds from several different locations! Another study showed that fossil ammonites and wood from a lower Cretaceous formation, which is supposed to be 112-120 million years old, also have detectable levels of carbon-14 in them. If these studies are accurate, they show that there is something wrong with the old-earth view: Either carbon dating is not the reliable tool it is thought to be for "recent" dating, or the fossils and materials that are supposed to be millions of years old are not really that old. Of course, both options could also be true.
While these studies use several different samples, they represent the work of only a few scientists. As a result, it is always possible that they are not as reliable as they seem. However, as time has gone on, more people have been looking for carbon-14 in carbon-containing materials that are supposed to be millions of years old, and the results are becoming more and more convincing. The most recent set of studies was presented at the joint meeting of the Asia Oceanic Geosciences Society and the American Geophysical Union (AOGS–AGU) that was held on August 13-17, 2012 in Singapore.
The 15-minute presentation, which you can watch here, was given by Dr. Thomas Seiler, a German physicist. In it, he reports on the carbon dating of dinosaur bones, other megafauna (such as mammoths), and plants. In all cases, these materials are supposed to be millions of years old, but they all have detectable levels of carbon-14 in them. This is in agreement with the two studies mentioned above, strengthening the overall case.
Of course, one possible explanation for these results is contamination. It is possible that "modern" carbon has infiltrated into all these samples, and that's what is being detected. In his presentation, however, Dr. Seiler gives several lines of argument that tend to cast doubt on such an explanation. First, all the standard treatment used to make a fossil ready for carbon dating was done, which is supposed to get rid of contamination. Second, in some cases, they were examining actual proteins, such as collagen. If "modern" carbon contaminated these fossils, it would enter them as collagen! Third, there are some chemicals (like humic acid) that are common contaminants, and it was confirmed that the treatment done on the samples removed those contaminants. Fourth, the amount of carbon in the vicinity of the fossil decreased as you moved away from the fossil. This indicates carbon was "leaking out" of the fossil, not moving into it.
However, I thought the most striking argument he made against the contamination explanation was his last. He showed a graph that ordered the samples according to their amount of carbon-14, and he showed that they naturally separate into four distinct groups. The plants were all in the group that had the lowest level of carbon-14, while the dinosaurs and megafauna formed three other groups. This kind of structure would not be expected in data that come from contamination.
Do I think these data "seal the deal?" Certainly not. They strengthen the case for a discord between carbon-14 dating and old-earth thinking, but they are by no means conclusive. Even combined with the previous studies, for example, the specimens represent only a small fraction of what is available to measure. Also, until there is some explanation for the trends in the data, such as the grouping I mentioned above, there is always the possibility of an alternative explanation.
Despite my caution, I can say two things for sure about these data. First, they are completely unexpected in any old-earth paradigm. If nothing else, then, that should give all old-earth scientists something to think about. More importantly, the data are obviously threatening to some old-earth scientists, as the talk has actually been removed from the meeting's official program! According to this source:
Since dinosaurs are thought to be over 65 million years old, the news is stunning. And more than some can tolerate. After the AOGS-AGU conference in Singapore, the abstract was removed from the conference website by two chairmen because they could not accept the findings. Unwilling to challenge the data openly, they erased the report from public view without a word to the authors or even to the AOGS officers, until after an investigation. It won't be restored.
While I can't confirm the details in the quote above, you can see for yourself that the presentation was removed. Here is a screen shot of the old program. However, if you go to the official site, you can see that the talk has been removed. Just go to the grid for Wednesday and double-click on "BG02" at the bottom of the fourth column. This was the session that contained the presentation. Notice that the presentation numbers go from "4" to "6," skipping "5," which was the presentation on carbon-14 in dinosaur bones.
You have to ask yourself why some old-earth scientists are afraid of letting other scientists see these data. I think that speaks volumes.