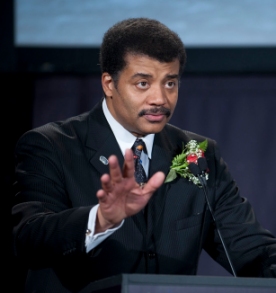 A few months ago, I discussed some of the many historical falsehoods spread by Fox's reboot of the television show known as Cosmos. A professor of history, philosophy, and sociology of science at Michigan State University actually wondered if it was okay for the show to promote such falsehoods, because the ultimate goal was to get people to believe in a naturalistic view of the universe. According to him, this is a good thing, so perhaps it's okay to lie a bit about history in order to achieve that goal.
At the time, I didn't want to blame the show's host, Dr. Neil deGrasse Tyson, for these falsehoods. He's a very likeable guy, and besides, he's an astrophysicist, not a historian. I assumed that he was just reading a script and didn't know enough to realize that the script was wrong. After all, Bill Nye had a similar problem when he didn't understand the science behind a faked experiment that he narrated. Unfortunately, I think I was giving Dr. Tyson too much credit.
Thanks to the folks over at Evolution News and Views, I was made aware of three articles at The Federalist which show that spreading falsehoods seems to be a pattern for Dr. Tyson. The first article discusses how he made up a fake newspaper headline, and in the process, demonstrated that he doesn't understand basic statistics. The second article rehashes the first one and then gives an example of a quote Dr. Tyson fabricated as well as a supposedly true story he tells, the details of which seem to change as he tells it. The third article discusses another fabricated quote that demonstrates Tyson's lack of Biblical knowledge.
There is simply no excuse for making up quotes, headlines, and supposedly true stories. Now that I have read these articles in The Federalist, I wonder if Dr. Tyson had a hand in writing the historical falsehoods he spewed on Cosmos. It seems that would be in keeping with his standard mode of operation.