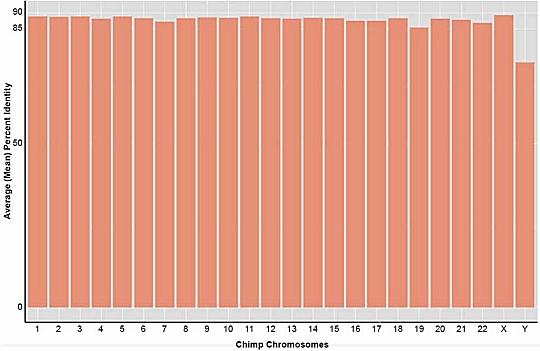 NOTE: Based on comments below by Glenn (who is mentioned in the article) and Aceofspades25, there are questions regarding the analysis used in Dr. Tomkins's study, upon which this article is based. Until Dr. Tomkins addresses these questions, it is best to be skeptical of his 88% similarity figure.
More than two years ago, Dr. Jeffrey P. Tomkins, a former director of the Clemson University Genomics Institute, performed a detailed, chromosome-by-chromosome comparison of human and chimpanzee DNA using a widely-recognized computer program known as BLAST. His analysis indicated that, on average, human and chimpanzee DNA are only about 70% similar. This is far, far, below the 95-99% numbers that are commonly cited by evolutionists, so once I read the study, I wrote a summary of it. Well, Dr. Tomkins has done a new study, and it invalidates the one he did two years ago.
The new study was done because last year, a computer programmer of financial trading algorithms (Glenn Williamson) discovered a bug in the BLAST algorithm that Tomkins used. This bug caused the program to ignore certain matches that should have been identified, which led to an artificially low similarity between the two genomes. As any responsible scientist would do, Dr. Tomkins took this issue seriously and did a detailed analysis of several different versions of the BLAST program. His analysis showed that most of the newer versions of the program were bugged, including the one used in his study two years ago.
As a result, Dr. Tomkins redid his study, using the one version of BLAST that did not contain the bug. His results are shown above. As you can see, every chromosome in the chimpanzee genome, with the exception of the Y chromosome, matched a corresponding region of the human genome by somewhere between 85% and 90%. The overall similarity between the human and chimpanzee genomes was 88%. While this is still far lower than the 95%, 98%, or 99% similarity touted by many evolutionists, it is much higher than the 70% found in his previous study.
To make sure that these new results aren't an artifact of some other unknown issue in the BLAST computer program, Dr. Tomkins also did his analysis with two other programs: nucmer and LASTZ. The nucmer program's results agreed with the unbugged BLAST results: on average the human and chimpanzee genomes are 88% similar. The LASTZ program produced a lower average similarity (73%), which indicates that perhaps LASTZ has a bug or is not optimized for such comparisons, since its results are very close to the results Dr. Tomkins got with the bugged version of BLAST.
I think this is the most comprehensive comparison of human and chimpanzee DNA that has been done, so I am inclined to take the results (88% similarity between human and chimpanzee DNA) as the best number we have to date. Of course, I said something similar about Dr. Tomkins's previous study (which turned out to be wrong), so take that statement with a grain of salt! [later addition:It might not be the best number we have to date. See note at the top of the article.]