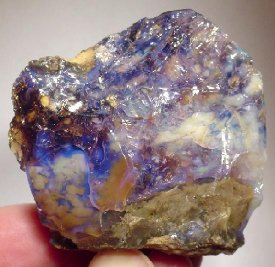 Some geologists are very fond of telling us that certain things take a long, long time to form. They confidently state that there is simply no other way for such structures to come about, and therefore is it simply ridiculous to assume that the earth is only a few thousand years old. If we currently see geological formations that we "know" took hundreds of thousands or millions of years to form, the earth simply can't be a few thousand years old.
For example, in his book, The World of Opals, Allan W. Eckert says:1
Throughout the study of opals, the scientific papers and textbooks have told that the process of opal formation requires tens of thousands of years, perhaps hundreds of thousands…and some have suggested even millions.
The very presence of opals on earth, then, indicates that the earth is at least tens of thousands if not millions of years old, right?
Wrong! It seems that opals simply won't behave according to the dictates of scientifically-irresponsible theories.
J.J. Watkins, H.J. Behr, and K. Behr were studying opals from Lightning Ridge in New South Wales, Australia. These opals are highly-prized in most jewelry circles. Rather than studying the opals by themselves, however, the scientists studied the bacteria that are associated with the opals. They found that the bacteria are an important part of the opal-forming process, and by ignoring these organisms, geologists have made a big mistake when it comes to their timescale for opal formation. As they say in their abstract:2
The microbes produced carbonic and organic acids that aided the biochemical weathering of clay minerals and feldspar to produce silica hydrosol. The kind of environment required by the microbes for life indicates the conditions under which opal was produced. This enables the determination of a new timetable for opal formation involving weeks to a few months and not the hundreds of thousands of years envisaged by the conventional weathering model.
So even though geology professors at my university confidently told me that opals take hundreds of thousands of years to form, the newest data indicate that opals take only a handful of weeks or a few months to form.
Now don't get me wrong. I am not trying to malign geologists by pointing out that they were off in their opal formation timetable by more than a factor of 105. I am merely pointing out the fallacy of making confident assertions based on the conclusion of models. The fact is we aren't sure how opals form, even after this study. We only have models that attempt to explain their formation. Since these models can obviously miss crucial elements, it is important to realize that any conclusions they make are tentative. In this case, the weathering model of opal formation missed the important contribution of bacteria (at least at the Lightning Ridge site), and as a result, its conclusion was quite false.
Science is a wonderful, self-correcting process. This study has, most likely, corrected a widely-held but fallacious view of how opals form. How many more widely-held scientific views will be overthrown in the years to come? Many – that's the beauty of science. How many of those widely-held views relate to the supposed scientific "fact" that the earth is billions of years old? I expect the answer to that question is also "Many."
REFERENCES
1. Allan W. Eckert, The World of Opals, John Wiley and Sons, 1997, p. 17
Return to Text
2. J.J. Watkins, H.J. Behr, and K. Behr, "Fossil microbes in opal from Lightning Ridge — implications for the formation of opal," Quarterly Notes Geological Survey of New South Wales 136:1-20, June 2011. (available online)
Return to Text