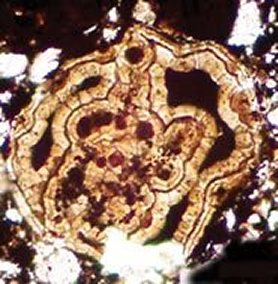 The Cambrian Explosion presents a serious headache for evolutionists. After all, the fossils found in Cambrian rock are supposed to be about 540 to 485 million years old. However, when you look at the complex animals preserved in such rock, you find every major body plan that exists in today's animals. Worse yet, when you look in layers that are supposed to be older than Cambrian rock, you don't find the supposed ancestors of these complex animals. Evolutionists have desperately tried to explain around the problem, but so far none of their explanations work.
In 2004, a ray of hope appeared. The journal Science published an article claiming to have found animal fossils that are 40-55 million years older than the Cambrian fossils. They also seemed simpler than the animal fossils found in Cambrian rock. These simple animals were called Vernanimalcula guizhouena, and the authors thought that they helped to mitigate the evolutionary headaches caused by the Cambrian Explosion. As the authors state in their paper:1
The morphology of Vernanimalcula demonstrates that the evolutionary appearance of developmental programs required to generate a multilayered bilaterian body plan preceded the entrainment of the growth programs required for macroscopic body size. Furthermore, the organization of these fossils, taken together with their provenance, indicates that the genetic tool kit and patter formation mechanisms required for bilaterian development had already evolved by Doushantuo times, long before the Cambrian. Therefore, the diversification of body plans in the Early Cambrian followed from the varied deployment of these mechanisms once conditions permitted, not from their sudden appearance at or just before the Cambrian boundary.
So these fossils showed that the Cambrian Explosion wasn't an explosion at all. Instead, simpler versions of the complex animals that appear in Cambrian rock existed previously, and the Cambrian era simply represented a rapid diversification of a basic body plan that had already existed in a simpler form.
Of course, like many evolutionary propositions, once this claim was thoroughly analyzed, it was shown to be utterly false.
A recent paper makes the compelling case that the "fossils" called Vernanimalcula guizhouena are not fossils at all. Instead, they are the effects of mineralization and do not have any biological origin. The authors conclude2
There is no evidential basis for interpreting Vernanimalcula as an animal, let alone a bilaterian. The conclusions of evolutionary studies that have relied upon the bilaterian interpretation of Vernanimalcula must be called into question.
The paper goes a step further, however. It says something very important about the nature of science and how scientists can be fooled by their own personal desires. The authors quote one of the paleontologists involved in the 2004 study, Dr. David Bottjer. In a 2005 article he wrote for Scientific American, he said:3
We had come to Guizhou in 2002 to hunt for microscopic fossils of some of the earliest animals on earth. Specifically, we were hoping to find a bilaterian.
The authors then go on to say that it's not surprising that the team found exactly what they were looking for. In the end, if you really want a fossil to exist, you will find something that looks like that fossil, whether it is real or not. The authors' comments reminded me of something I read two years ago. Dr. Esteban E. Sarmiento (a primatologist) wrote a commentary about Ardipithecus ramidus in the journal Science. This fossil is supposed to be a part of the evolutionary lineage of people, but Dr. Sarmiento is rather skeptical of that interpretation. After giving the reasons for his skepticism, he ends his commentary this way:
… it is curious that in a century-old race for superlative hominid fossils on a continent currently populated with African apes, we consistently unearth nearly complete hominid ancestors and have yet to recognize even a small fragment of a bona fide chimpanzee or gorilla ancestor.
I wholeheartedly agree. Like Vernanimalcula, the interpretation of many African fossils as members of the supposed human evolutionary line is heavily influenced by paleontologists' desire to find a human ancestor. In order to do good science, however, we must fight the desire to force the data to conform to our preconceived notions.
Now please understand that this is a problem for all scientists, not just evolutionists. When we go looking for evidence to confirm our views, we tend to find such evidence. If we are to be good scientists, we should avoid that situation. Instead, we should put the evidence first and follow it wherever it leads.
REFERENCES
1. Jun-Yuan Chen, et. al., "Small Bilaterian Fossils from 40 to 55 Million Years Before the Cambrian," Science 305:218-222, 2004
Return to Text
2. Stefan Bengtson, John A. Cunningham, Chongyu Yin, and Philip C.J. Donoghue, "A merciful death for the 'earliest bilaterian,' Vernanimalcula," Evolution & Development 14(5):421–427, 2012
Return to Text
3. David J. Bottjer, "The early evolution of animals," Scientific American 293:42-47, 2005
Return to Text