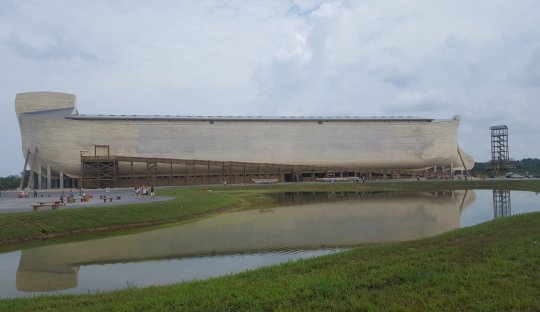 Yesterday, I toured the Answers in Genesis Ark Encounter with my wife and a friend. I wanted to visit the encounter as soon as it opened, but because of trips to Italy and China, yesterday was the first opportunity we had. I didn't know what to expect, so I went in with an open mind.
I originally thought the Ark Encounter would be like the Creation Museum, with a parking lot close to the entryway. I was wrong. When we parked and got out of the car, we could see the ark, but it was a long way off. A building in the parking lot served as a "bus terminal," where we were picked up and taken to the Ark itself.
When we got off the bus, my first thought was, "Wow. That's big." I have seen many models of the Ark over the years, and they all attempt to give you an idea of how big it was, usually by having scale models of trucks or elephants beside it. However, there is simply no substitute for seeing the massive structure built to its actual dimensions! Answers in Genesis bills the Ark as the largest timber-framed structure in the world, and I can believe that. *
The entrance is cleverly designed to give visitors a great view of the Ark's dimensions. You enter the Ark from below, which gives you stunning views of the bow, like this one: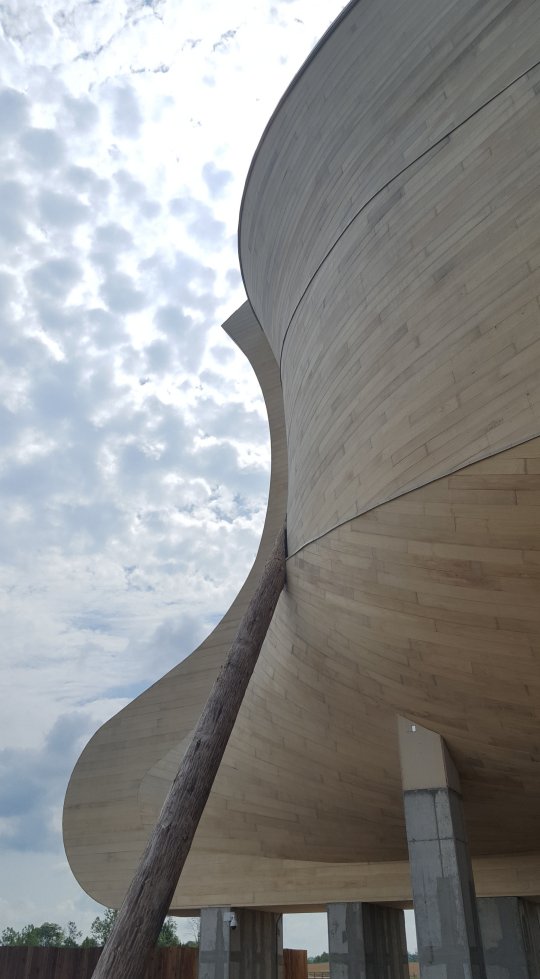 The inside of the ark is equally impressive. There are many, many cages that give you an idea of how Noah's family might have cared for the animals in the ark. The cages are designed so that liquid waste (and small solid waste) would fall into drainage areas so it could be easily removed. There are also water bottles made of clay that could give the animals a steady supply of fresh water. In addition, there are clay feed bottles that could deliver a steady supply of food to an animal over the course of several days.
Many of the cages have models of animals that might have been housed inside them. In addition, there are lots of recorded animal sounds that give you a feeling for what Noah's family might have heard on the ark. There are also several displays that discuss various questions one might ask about the ark, such as how many animals there were, how eight people could take care of them, what the animals were fed, and how the fresh water and ventilation needs of the animals and passengers were met.
Overall, I was impressed with those exhibits. Most of the time, they reminded the visitors that we don't have a lot of details, so much of what is presented is speculative and includes a lot of artistic license. Other exhibits, however, are based on well-known facts. For example, there is an excellent exhibit about flood legends from around the world, which I have always seen as strong evidence that the Flood was, indeed, worldwide. I couldn't get a really good picture of it, because there were a lot of other visitors there, despite the fact that it was a weekday. This was the best I could do: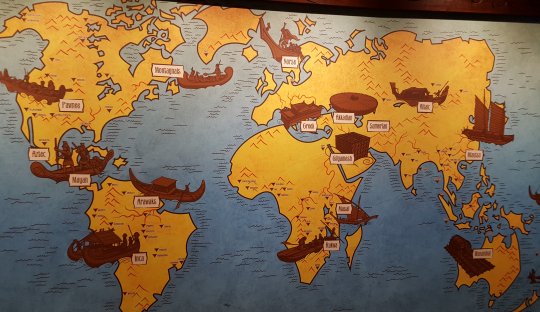 My favorite exhibit was a temporary one. It comes from the Museum of the Bible, and it displays some amazing Bibles like the Great Bible (printed in 1539) and the Matthew Bible (printed in 1537). There are also pages from historic Bibles that contain multiple languages (polyglot Bibles), and there is even a page from a copy of the Psalms (in Greek) that was made in the late 200s!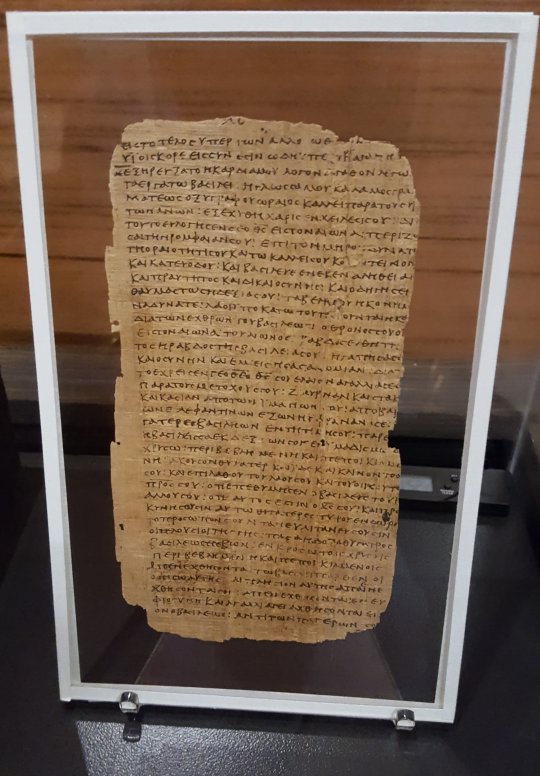 Now, there were parts of some displays that I didn't like. For example, the pre-Flood world exhibit (which we had to wait in line for about 20 minutes in order to see) starts with a lovely display that recounts what was created on each day of the creation account of Genesis 1. It accurately quotes the Bible as saying that God saw what He had made and it was "very good" (Genesis 1:31).
However, the very next display described Adam and Eve in the Garden of Eden, and it used the word "perfect" several times. According to the display, even Adam and Eve's marriage was "perfect." Although many of my fellow young-earth creationists say that the original creation (or at least the Garden of Eden) was perfect, that's an extra-Biblical idea which probably isn't true. If God had wanted to say that His initial creation was perfect, He could have, as there are Hebrew words for perfect. Instead, He said that it was "very good," which is quite different from perfect.
Now please understand that even the exhibits which had displays I didn't like were, overall, very good (just not perfect). Thus, I don't want my negative comments to overshadow the fact that I honestly think the Ark Encounter is something that everyone should see. As a young-earth creationist, it helped me better understand the worldwide Flood, the sheer magnitude of the Ark, and the various ways that Noah and his family could have taken care of all the animals on it. For example, I had never thought of this, but the Ark Encounter had an indoor garden that Noah and his family could have tended to supplement their food supply.
Even if you aren't a young-earth creationist, however, I would think that the Ark Encounter would be something you could appreciate. Many old-earth creationists, for example, believe that the Flood was local, but they still believe that Noah and his family built an ark and cared for some animals on it. While the Ark Encounter does contain young-earth assumptions and presents some young-earth arguments, it is mostly about the Ark. Thus, I would think it would be useful to anyone who thinks the Ark was real.
Even those who don't think the Ark was real should be able to appreciate the Ark Encounter. If nothing else, it will give you an accurate picture of the Ark that you are rejecting. The exhibits should at least show you that there are some reasonable answers to most of the objections you have against it. Those answers probably won't change your mind, but they might give you a more realistic view of those who disagree with you on the issue.
As a result, I encourage everyone to visit the Ark Encounter. I think that regardless of their views on the Flood account given in the Bible, most people who can afford the admission fee will enjoy it and learn from it.
NOTE:
* The term "timber-framed" has a specific definition. Based on that definition, Answers in Genesis's claim appears to be accurate. However, the Ark is definitely not the largest wooden structure in the world.
Return to Text