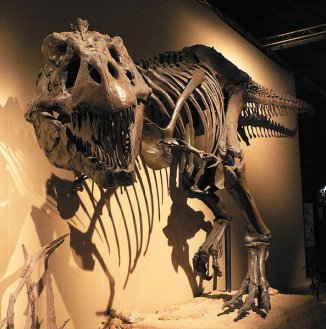 In 2005, Dr. Mary Schweitzer stunned the scientific community by publishing data that indicated she had found soft tissue in a Tyrannosaurus rex fossil that is supposed to be more than 65 million years old.1 While many in the scientific community were unconvinced at the time, several lines of evidence now indicate that she was correct. Since that time, other examples of soft tissue in fossils that are supposed to be millions of years old have been found: muscle tissue in a salamander fossil that is supposed to be 18 million years old, retinal tissue in a mosasaur fossil that is supposed to be 70 million years old, and what appear to be bone cells from the same mosasaur fossil. Now, Dr. Schweitzer has come back into the picture with some strong evidence that she has also found bone cells in her Tyrannosaurus rex fossil, as well as one other dinosaur fossil.2
There are three different kinds of bone cells in vertebrates: osteoblasts, osteoclasts, and osteocytes. If you use a microscope, you can tell them apart just by looking at them. Osteoblasts are the cells that build bone, while osteoclasts are the cells that break down bone. Both are important, because your bones adjust to the needs of your body, so there are times that you will need to build more bone, and there are other times you will need to break down some bone. The third group of bone cells, osteocytes, are the most common. They maintain the bone.
The study that found bone cells in a mosasaur fossil found osteocytes, and that's what Dr. Schweitzer's team found as well. Now, of course, just because they found microscopic structures that looked like osteocytes isn't necessarily surprising. After all, the fossilization process could be detailed enough to preserve the shapes of individual cells. If these structures really are just the fossilized shapes of the osteocytes, it is exciting, but not incredibly surprising. However, Schweitzer's team has done some detailed experiments to show that these aren't just shapes. Indeed, these osteocyte structures still contain proteins and probably even DNA!
One of the tests the team did was to produce an antibody (a protein used by the immune system) that binds to a variant of a protein known as PHEX. Most animals have this protein, and it is most common in bone cells. The antibody they produced binds only to a variant of the protein that is found in bird osteocytes. It is not even found in bird osteoblasts. So it is a strong indication of the presence of osteocytes. Since birds are thought to have evolved from dinosaurs, it made sense to the team that if the dinosaur osteocytes contained PHEX, it would be similar to the PHEX found in birds. They showed that the antibody did, indeed, bind to the osteocytes. This is strong evidence that the preserved osteocytes still contained large sections of the PHEX that characterizes them.
Even more intriguing, they exposed the osteocytes to antibodies that target DNA, and they found that the antibodies bound to things inside the osteocytes. Interestingly enough, however, the antibodies didn't bind to everything inside the osteoctytes. Instead, they bound only to certain specific regions. This is exactly what you would expect if the antibodies were binding to DNA from the osteocytes, since DNA exists in specific regions of the cell, such as the nucleus and the mitochondria. This evidence indicates that the osteocyte remains still contain DNA!
In addition, they used mass spectrometry to analyze the osteocytes. Their analysis revealed three proteins (histone4, tubulin, and actin) that are all found in animal cells. To further show that these chemicals came from the osteocytes and not bacteria in the surrounding material, they exposed the surrounding material to antibodies that bind to those specific proteins, and the antibodies didn't find anything to which they could bind. Thus, these chemicals really do seem to have originated from the osteocytes themselves.
Now don't misunderstand these results. The osteocytes that Dr. Schweitzer's team found were not alive. However, they still contained what appear to be the proteins you would expect to find in living osteocytes, as well as at least some remnants of DNA. That's the amazing part of their results. These bones are supposed to be more than 65 million years old, yet they hold fossilized remains of cells that still contain their proteins and some DNA. It is thought that even under the best conditions, most proteins should decay away in about 30,000 years3, and DNA should decay away in about 125,000 years.4
The evidence is mounting that both DNA and proteins have been found in fossils that are supposed to be millions of years old. This means one of two things: Either DNA and proteins can be preserved a lot longer than anyone has expected, or these bones aren't millions of years old. If I were a betting man, my money would be on the latter.
REFERENCES
1. Mary H. Schweitzer, Jennifer L. Wittmeyer,John R. Horner, and Jan K. Toporski, "Soft-Tissue Vessels and Cellular Preservation in Tyrannosaurus rex," Science, 307:1952-1955, 2005
Return to Text
2. Mary Higby Schweitzer, Wenxia Zhenga, Timothy P. Clelanda, and Marshall Bernc, "Molecular analyses of dinosaur osteocytes support the presence of endogenous molecules," Bone, dx.doi.org/10.1016/j.bone.2012.10.010, 2012
Return to Text
3. Bada, J. et al., "Preservation of key biomolecules in the fossil record: current knowledge and future challenges," Philosophical Transactions of the Royal Society B: Biological Sciences, 354:77-87, 1999
Return to Text
4. Nielson-Marsh, Christina, et al., "Biomolecules in fossil remains: Multidisciplinary approach to endurance," The Biochemist, 12-14, June 2002
Return to Text