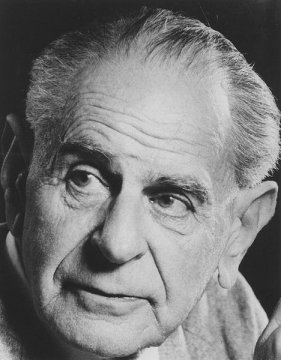 In one of my science textbooks, I make the statement that science cannot prove anything.1 I am always surprised at how controversial such a matter-of-fact statement is to some people. Almost every year, at least one student or parent will contact me simply aghast that I would write something like that in a science textbook. After all, science has proven all sorts of things, hasn't it?
Of course it hasn't. In fact, it is impossible for science to prove anything, because science is based on experiments and observations, both of which can be flawed. Often, those flaws don't become apparent to the scientific community for quite some time. Flawed experiments and observations, of course, lead to flawed conclusions, so even the most secure scientific statements have never been proven. There might be gobs and gobs of evidence for them, but they have not been proven.
Karl Popper probably wrote the most important book related to this concept, which was titled The Logic of Scientific Discovery. Interestingly enough, he originally wrote it in German and then rewrote it in English. As a result, it is one of the few books that is published in two different languages but was never translated. The author wrote both versions. In this book, he argues that science should follow a methodology based on falsification. He shows quite clearly that while science cannot prove anything, it can falsify ideas that are currently thought to be true. He therefore argues that the test of any real scientific theory is whether or not it can be falsified. If not, then it is not truly a scientific theory.
There are a lot of scientists who disagree with Popper that falsification is the key to whether or not a theory is scientific. However, few would argue with his point that science cannot prove anything. Indeed, the journal Science seemed to forget this fact for a moment, but an astute reader chastised the editor, who admitted he was wrong.
The reader's name is Charles L. Bennett, and he wrote a letter to the editor saying:2
The title of the 6 May News of the Week story "At long last, Gravity Probe B satellite proves Einstein right" (p. 649) made me cringe. I find myself frequently repeating to students and the public that science doesn't "prove" theories. Scientific measurements can only disprove theories or be consistent with them. Any theory that is consistent with measurements could be disproved by a future measurement. I wouldn't have expected Science magazine, of all places, to say a theory was "proved."
Dr. Bennett is correct, of course. The editor, Colin Norman, admitted that in his response, which appeared right under the letter:
Bennett is completely correct. It's an important conceptual point, and we blew it.
Unfortunately, as long as science magazines and teachers are sloppy enough to keep using phrases like, "science has proven," it will be hard to teach children the truth.
REFERENCES
1. Jay L. Wile, Exploring Creation with General Science (Apologia Educational Ministries, Inc. 2008), p. 38
Return to Text
2. Charles L. Bennett, "Science Title Misstep," Science 332:1263, 2011
Return to Text