Anyone who has seen me in person knows that I am not very concerned about health. I am overweight because I eat a large amount of what I like, regardless of whether or not it is good for me. It's not a smart way to live; I know. However, it is a fun way to live, so that's why I do it. I was therefore rather surprised to learn that this slime mold: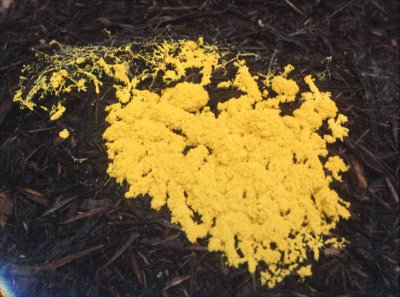 takes its diet more seriously than I do!
In the Proceedings of the National Academy of Sciences, Audrey Dussutour and her colleagues report on a very clever series of experiments studying the dietary habits of this slime mold.1 First, they took 350 different slime mold fragments and gave them one of 35 different diets, each of which had a different protein-to-carbohydrate ratio. They found that the slime molds grew best when they had a diet that consisted of a 2:1 protein-to-carbohydrate ratio.
Having determined experimentally what the healthiest diet is for these slime molds, the researchers then performed two experiments to see whether or not a slime mold could figure out the same thing for itself. In the first series of experiments, they put a slime mold in a dish that had two clumps of food. The two clumps of food had different protein-to-carbohydrate ratios, neither of which was optimal. For example, in one trial, the first clump had a protein-to-carbohydrate ratio of 6:1 (too much protein), and the second clump had a ratio of 1:2 (too much carbohydrate). The slime mold grew so that it covered both clumps and took in exactly the best ratio (2:1)! In the second experiment, they gave the slime mold 11 different clumps, none of which had the optimal ratio of protein to carbohydrate. The slime mold chose the two clumps closest to the optimal ratio and once again grew so that it would be able to absorb just the right ratio.
What's amazing about this study is that a slime mold has no "central processing center." In general, a slime mold is just a loose association of amoeba-like cells. The specific slime mold studied in this research was in its plasmodium stage, which is really just a network of multiple cell nuclei in a "blob" of cytoplasm. The entire blob can move in search of food, which is how the slime mold chose what clumps of food it would eat in the experiment. Unlike a typical multicellular animal, then, there isn't a nervous system or any other central control unit. Nevertheless, the organism somehow "knew" what its proper diet was and reacted to its environment so that it could achieve that diet.
The point here is that even this kind of "simple" multicellular organism is surprisingly complex. In the general framework of evolution, nonliving chemicals randomly reacted to form the first living cell. That cell slowly became more and more complex, most likely by absorbing other cells. Eventually, a complex cell somehow "figured out" how to cooperate with other cells in a simple colony. As that cooperation continued, eventually the simplest multicellular organisms were formed. Over time, those multicellular organisms gave rise to very complex multicellular organisms.
Of course, the more we learn about the supposedly "simple" organisms with which we share the earth, the less believable the story becomes. As Dr. Cornelius Hunter points out, even the "simplest" one-celled creature capable of reproducing on its own is exceedingly complex. The idea that random (unknown) chemical reactions coupled with some (unknown) selection method could possibly produce something as complex as even the "simplest" cell we know today is ridiculous, especially in light of the many origin-of-life experiments that have failed so miserably.
What we learn from this study is that the "simple" multicellular organisms are also exceedingly complex. Depending on who you believe, slime molds like the one studied in this experiment were supposed to either be some of the first multicellular organisms2 to have evolved, or they evolved later and are more closely related to animals and fungi than are the multicellular plants.3 Either way, the general view is that these organisms are "simple" or even "primitive." For example, Lenny Flank (a strong opponent of intelligent design) says:
It thus cannot be said with any certainty whether sponges and slime molds are simple collections of independent single celled organisms, or whether they are primitive multicellular organisms. 4
Actually, studies like this one definitively show that slime molds are neither simple collections of independent single-celled organisms nor primitive multicellular organisms. Instead, they are very complex organisms that we do not really understand. In addition, the more we understand them, the less believable any evolutionary explanation of their origin becomes.
REFERENCES
1. Audrey Dussutoura, Tanya Lattyb, Madeleine Beekmanb, and Stephen J. Simpson, "Amoeboid organism solves complex nutritional challenges," PNAS,, published online Feb 8, 2010. Available at Dr. Dussutoura's website
Return to Text
2. De Rijk P, Van de Peer Y, Van den Broeck I, De Wachter R., "Evolution according to large ribosomal subunit RNA," J Mol Evol. 41:366-75, 1995
Return to Text
3. Baldauf SL, Doolittle WF, "Origin and evolution of the slime molds (Mycetozoa)," PNAS, 94:12007-12, 1997
Return to Text
4. Deception by Design: The Intelligent Design Movement in America, Lenny Flank, Red and Black Publishers, 2007, p. 98
Return to Text