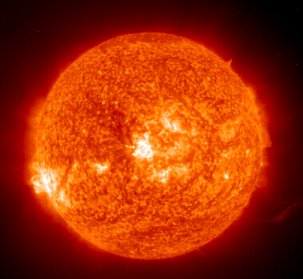 There are many, many data sets that clearly indicate the earth is young. I have blogged about several of them, some of which give direct measurements indicating that the earth is about 10,000 years old. Other data sets simply put upper limits on the age of the earth. One of those data sets is based on the behavior of the sun. As I have blogged before, the sun produces energy via thermonuclear fusion, and we know enough about thermonuclear fusion to understand that if the sun really has been around for billions of years, it is significantly hotter now than it was back then, probably by about 25%.
This, of course, produces a problem for an earth that is supposedly billions of years old. After all, the earth needs a certain amount of energy in order to support life. A billions-of-years-old sun would produce significantly less energy in the distant past than it does now, resulting in an earth that is simply too cold to support life.
Of course there are many scientists who are so desperate to believe in a billions-of-years-old earth that they are forced to produce some sort of narrative so that they can "explain around" this obvious problem. Once such scientist was Carl Sagan. In 1972, he and a colleague wrote a paper1 that suggested that the problem could be solved if the concentration of carbon dioxide in the atmosphere was significantly greater in the distant past.** He fervently hoped that a lot of extra carbon dioxide would produce a much stronger greenhouse effect, making the earth sufficiently warm enough for life, even when the sun was a lot dimmer.
Now this is only a partial solution to the problem, because not only did Sagan need to have faith that carbon dioxide concentrations in the atmosphere were significantly greater in the past, he also had to ardently believe that those concentrations would slowly fall in perfect coordination with the increase in the brightness of the sun so that the earth would never get too hot or too cold as the sun got brighter and brighter.
Well, now we know that despite Sagan's desperate hopes, his explanation doesn't work.
In the April first issue of the journal Nature, Rosing and colleagues report on a study of minerals in rocks that scientifically irresponsible dating methods indicate are 3.8 billion years old. Based on how we know the minerals in these rocks form, the authors suggest that the maximum amount of carbon dioxide in the atmosphere when the rocks formed was about 1000 parts per million (a nice round number).2 This is not nearly enough to cause the necessary greenhouse effect to keep the earth warm enough under an ancient, dim sun.
So now that we know Sagan's attempt to explain around the problem doesn't work, what do the authors suggest? Well, even though they desperately want to believe that the earth's temperature has remained relatively stable over the supposed billions of years during which life has supposedly been evolving, they don't provide any solid answers. In fact, they say:
The Earth's surface environment over the approximately 4 billion years (Gyr) recorded in geologic formations appears to have been maintained within a relatively narrow range in which liquid water was stable. This is surprising…It is not readily apparent to what extent this apparent thermostasis can be attributed to physico-chemical feedback mechanisms, metabolic interventions from living organisms, or combinations of unrelated secular changes.3
Now of course, such a situation will not do for people who are forced to ignore the data and believe in a billions-of-years-old earth, so they come up with a hypothesis:
…we hypothesize that a lower albedo on the Earth, owing to considerably less continental area and to the lack of biologically induced cloud condensation nuclei, made an important contribution to moderating surface temperature4
The albedo* of a planet is simply a measure of how reflective it is. If a planet reflects a lot of the sun's light back into space, that light obviously can't be used to warm the planet. Thus, Rosing and colleagues suggest that there might have been less land and fewer clouds back in the distant past, so the earth absorbed more of the sun's light than it does now. Of course, like Sagan's explanation, this requires a remarkably well-timed scenario in which the albedo of the earth magically increases at just the right pace as the sun brightens, so that the earth continually gets just the right amount of energy to allow for life to exist.
Boy…I am glad that I believe in looking at the data and therefore conclude that the earth is young. I just don't have enough faith to believe nonsense like that!
REFERENCES
1. Carl Sagan and George Mullen, "Earth and Mars: Evolution of Atmospheres and Surface Temperatures," Science 177:52 – 56, 1972
Return to Text
2. Minik T. Rosing, Dennis K. Bird, Norman H. Sleep, and Christian J. Bjerrum, "No climate paradox under the faint early Sun," Nature 464:744-747, 2010
Return to Text
3. Ibid, p. 745
Return to Text
4. Ibid, p. 744
Return to Text
*If you are reading this, Black Sheep, its ALBEDO, not LIBIDO
Return to Text
** I got this wrong. Sagan and his colleague suggested ammonia. However, it was quickly shown that ammonia would not be stable in the atmosphere, so it could not be used as a way to sustain the needed warmth. As a result, others suggested a mix of carbon dioxide and water.
Return to Text