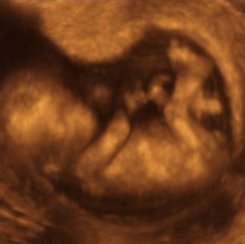 In a previous post, I noted that from a scientific point of view, it is quite clear that a baby developing in the womb is fully human. In fact, people who claim otherwise are forced to argue against science. This produces some really absurd ideas, such as Josh Rosenau's claim that it is hard to distinguish between a baby developing in the womb and cancer!
Now even though I doubt that it will change the minds of the fervent pro-abortion crowd out there, it is important to communicate what science tells us about a baby developing in the womb. As I mentioned in the previous post linked above, not only does genetics tell us that from the moment of fertilization, a baby is 100% human, but recent studies also indicate that when given the opportunity, babies in the womb will socialize. This, of course, adds to the genetic evidence and confirms that babies in the womb are, indeed, fully human.
The newest thing science tells us is that parts of the brain that were thought not to develop until after a baby is born are actually well-developed in the womb. Interestingly enough, those parts of the brain are involved in the kinds of activities that make us…well…human.
To understand the significance of the findings, you need to know what a resting state network is. It is a pattern of low-frequency brain activity that is always happening, even when a person is asleep. You can find resting state networks (RSNs) for many brain functions. For example, there is a RSN for touch, an RSN for vision, an RSN for movement, etc.
There is one particular RSN that is quite interesting. It is called the default mode network. This RSN tends to increase its activity when a person is involved in such introspective activities as planning for the future, retrieving memories, or gauging the perspectives of others. It reduces its activity when a person is focused on external visual stimuli. For example, as I write this piece, my default mode network increases its activity as I think about what I will write, and it decreases its activity as I actually focus on the screen and type these words.
What does the default mode network actually do? Well, we aren't completely sure, but most neurologists think it is an integral part of the brain's ability to plan for the future, process past social interactions in an attempt to understand others, and get the most out of our brains when we are not involved with the rest of the world. 1
Now it was thought that resting state networks, especially the default mode network, developed well after birth. Indeed, since the default mode network is so involved in things associated with a human life, such as planning for the future and retrieving memories, how could it possibly be developed while a child is in the womb? However, when researchers actually tested this idea, they found that it was quite wrong.
Valentina Doria and her colleagues used functional MRI to examine 70 infants born prematurely. Here is how they summarize their results:
Visual, auditory, somatosensory, motor, default mode, frontoparietal, and executive control networks developed at different rates; however, by term, complete networks were present, several of which were integrated with thalamic activity. These results place the emergence of RSNs largely during the period of rapid neural growth in the third trimester of gestation, suggesting that they are formed before the acquisition of cognitive competencies in later childhood.2
So in the end, based on studying several babies born prematurely, this team of researchers tells us that the RSNs of a baby, including the child's default mode network, are developed while the baby is still in the womb.
What does this tell us? Well, according to one member of the research team:
either being a fetus is a lot more fun than we remember, as we were able to lie there thinking about the future, or current understanding of what these networks do is mistaken
So if our understanding of the brain is correct, even in the womb, a baby is having the kinds of thoughts that characterize that baby as human. Add that to the genetic evidence and the social interaction evidence, and it is clear that even in the womb, a baby is fully human.
Now I will add one caveat to this. Function MRI is known to have problems when it comes to data analysis. Thus, the conclusions of this study are best treated as very tentative until they are confirmed by others.
REFERENCES
1. Buckner RL, Andrews-Hanna JR, and Schacter DL., "The brain's default network: anatomy, function, and relevance to disease," Annals of the NY Academy of Science 1124:1-38, 2008.
Return to Text
2. Valentina Doria, et al., "Emergence of resting state networks in the preterm human brain," Proceedings of the National Academy of Sciences of the United States 107:20015-20, 2010.
Return to Text