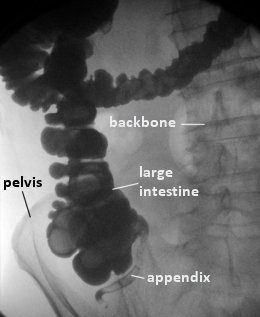 The appendix is a tube-like structure that extends from the cecum, a small pouch that forms the beginning of the large intestine. In the medical image on the left, you can see it because it is filled with a contrast medium, as is the large intestine. For a long, long time, evolutionists have told us that the appendix is useless. It is a leftover vestige from when our ancestors depended heavily on vegetation for food. We have evolved out of such dietary needs, and as a result, we don't need an appendix anymore. So the appendix we have today is just a shriveled remnant of what used to be a large, complex cecum in our ancestors. Here is how the Cambridge Advanced Learner's Dictionary defined the appendix in 2008:1
BODY PART: 1 (plural appendixes) a small tube-shaped part which is joined to the INTESTINES on the right side of the body and has no use in humans
[emphasis in original]
Of course, anyone who has been reading this blog for a while knows what the scientific evidence actually says: The appendix is not useless in any way. As a recent study tells us:2
Substantial evidence supports the view that the cecal appendix is an immune structure primarily functioning as a safe-house for beneficial bacteria, and comes from a range of disciplines, including medicine, epidemiology, immunology, and microbiology.
In order to salvage what they can, most evolutionists who know about the recent evidence now admit that the appendix has function, but they still insist that it is vestigial. They argue that the appendix evolved this new function once the old function was no longer needed.
At least some evolutionists, however, are more interested in what the data actually say. The authors of the study in reference (2) have looked at the data and have come to the conclusion that the appendix is not vestigial in any way. Instead, it is so important that it has evolved independently at least 32 separate times throughout the course of mammalian evolution!
The authors gathered information on 361 animals that seem to represent the major groups of living mammals. 50 of them have an appendix. They correlated those data with a supposed evolutionary tree of mammals, and they noticed two very important things. First, the existence of an appendix does not seem to be related to the changes in diet that supposedly took place during the course of mammalian evolution. Thus, the idea that humans (and other species with an appendix) evolved out of their need for a large cecum due to dietary changes does not appear to be correct. As the authors state:
The results tend to refute the idea that individual factors such as social behavior or diet strongly influence the evolution of the appendix, although the possibility that some combination of these and perhaps other factors are important has not been ruled out.
Second, they found that the appendix seems to make several appearances and a few disappearances throughout the supposed evolutionary history of mammals. Indeed, they found at least 32 events (and possibly as many as 38 events) in which the appendix evolved independently. This means that among the 50 species which currently have a recognizable appendix, most of them evolved it completely independently of the others. Thus, the appendix is not only functional, its function in mammals is so important that it had to evolve independently most of the time! They also found as many as six times when the appendix had to disappear as a result of evolution. The authors conclude:
Given all of the information available, a new working hypothesis might be developed in which the appendix has evolved as a microbial safe-house under selection pressure from gastrointestinal pathogens potentially transmitted via a range of mechanisms rather than via a single mechanism dominated by a particular dietary or social factor.
Now if it surprises you that evolutionists can talk seriously about a specific organ evolving independently multiple times throughout the course of evolution, you haven't been keeping up on your reading. This is a very common way that evolutionists explain around the fact that the data don't conform to their expectations.
At one time, evolutionists thought that similar structures exist in different species because of common ancestry. However, the more we look at nature, the more we find all sorts of similar structures and behaviors that can't possibly be the result of common ancestry, even with all the mental gymnastics evolutionists are willing to perform. As a result, evolutionists have come to accept the idea of "convergence," which means similar structures can evolve not because of common ancestry, but because of common function or common need. Indeed, according to some evolutionists, eyes must have evolved independently in unrelated lineages as many as 60 times in order to be consistent with the data at hand!3
If you're willing to believe that eyes evolved independently as many as 60 different times, I supposed believing that an organ like the appendix (which many still claim is vestigial) can evolve independently at least 32 times is no big deal! Of course, creationists have long maintained that the appendix is not vestigial in any way and serves an important function. In the creationist view, it is one of the many design "modules" that the Creator used to meet the needs of certain kinds of animals. In my view, that's a much easier way to understand the results of this study.
REFERENCES
1. Cambridge Advanced Learners Dictionary, Elizabeth Walter, senior commissioning editor, Cambridge University Press 2008, p. 61
Return to Text
2. Heather F. Smith, William Parker, Sanet H. Kotzé, and Michel Laurine, "Multiple independent appearances of the cecal appendix in mammalian evolution and an investigation of related ecological and anatomical factors," Comptes Rendus Palevol, doi:10.1016/j.crpv.2012.12.001, 2013
Return to Text
3. Richard Dawkins and Yan Wong, The Ancestor's Tale: A Pilgrimage to the Dawn of Evolution, Mariner Books, 2005, p. 588
Return to Text