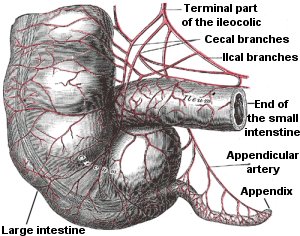 For many, many years, evolutionists have called the human appendix a vestigial organ. In their view, our supposed ancestors needed a large cecum for digestive purposes. Over time, however, we evolved so that we didn't need such a large cecum anymore. However, mutation and natural selection never got around to completely removing the large cecum and, as a result, we have a leftover, useless, small version called the appendix. As one evolutionist put it:1
…we have an appendix (a small remnant of a prior ancestor species' intestinal sack) which not only is of no use to us but which can sometimes kill us when it gets clogged up and infected! What kind of god or other "intelligent designer" would design organisms with such useless, imperfect, wasteful, and sometimes even harmful physical features?
As I wrote previously, there is strong evidence that this evolution-inspired idea is incorrect. Evidence indicates that the appendix acts as a safe reservoir of the beneficial bacteria that usually populate your intestine. That way, when you have a disease that wipes out those bacteria, they can quickly repopulate your intestine so as to restore your normal level of health. This function conforms quite nicely to a creationist prediction made several years before this evidence began to mount.
Of course, a few pieces of evidence do not make a clear-cut case. As a result, it is important to test the idea that the appendix has a vital function in the human body by making predictions based on that assumption and then seeing whether or not the predictions are confirmed by the data. This has recently happened. In 2007, some medical scientists wrote a paper suggesting that the appendix served as a reservoir for the beneficial bacteria that live in our intestines.2 As a result, they predicted that if specific intestinal diseases were investigated, it should be found that people who have those diseases are better able to fight them if they have an appendix.
Well, a study that tested this prediction was recently published, and the prediction was dramatically confirmed.
The authors of the study investigated 254 patients whose intestines were infected with Clostridium difficile, a bacterium that can cause a wide range of problems from diarrhea to a fatal inflammation of the large intestine. Under normal circumstances, most people don't have trouble with this bacterium, because it does not compete well with the bacteria that typically live in the human intestines. Thus, if you have a normal complement of beneficial bacteria living in your intestines, you will probably never get a serious Clostridium difficile infection.
However, suppose you have some other infection, and it is treated with broad-spectrum antibiotics. These kinds of antibiotics are generally pretty good at killing the infecting bacteria, but they kill the beneficial bacteria that live in your intestines as well. When that happens, you are susceptible to Clostridium difficile infection, since there are no other bacteria with which they need to compete. So the authors of the study realized that Clostridium difficile infection was a great test of the theory that the appendix serves as a reservoir of the beneficial bacteria that live in your intestines. If that is true, people who get a Clostridium difficile infection should be more likely to get the infection again if they don't have an appendix.
That's exactly what they found. Eleven percent of the patients who had an intact appendix ended up having at least one recurrence of the infection. However, 48% of those who did not have an appendix had at least one recurrence of the infection.3 Thus, patients were roughly four times more likely to have a recurrence of the infection if they did not have an appendix. This adds to the growing body of evidence that the appendix is far from useless. Instead, it serves a vital function in maintaining the health of the intestines.
Now please note that the evolutionary idea of a "vestigial organ" has, itself, evolved. Darwin called vestigial organs completely useless, likening them to the silent letters in a word. These letters do nothing in the word, but they can help to explain the word's origins. In the same way, he thought, vestigial organs do nothing in the organism, but they can help you understand the evolution of the organism.4 Nowadays, many evolutionists understand that there are almost no useless organs in nature. Thus, they have adjusted the definition of a vestigial organ to mean an organ that has a reduced, diminished, or new function compared to the organ found in the ancestor.
An evolutionist, then, can still still call the appendix a "vestigial organ." He just has to say that the function it plays is either a diminished version of the ancestral organ's function, or it is a completely new function that evolution has "co-opted" the organ to perform. Most evolutionists will choose the latter in the specific case of the human appendix, saying that while the large cecum performed a vital digestive role in our ancestors, the human appendix is a diminished version of that cecum, and it has been co-opted into its new role of acting as a reservoir for the beneficial bacteria that normally populate the intestines.
Given the vital role we know that our intestinal bacteria play, however, it seems rather unlikely that such a view is reasonable. Studies like this one indicate that the appendix plays a vital role in sustaining beneficial bacteria so as to maintain healthy intestines. To me, that makes it look like an essential organ that was designed to do a specific job in the body.
REFERENCES
1. Ardea Skybreak, The science of evolution and the myth of creationism:
knowing what's real and why it matters, Insight Press 2006, p. 104.
Return to Text
2. Randal Bollinger R, Barbas AS, Bush EL, Lin SS, and Parker W., "Biofilms in the large bowel suggest an apparent function of the human vermiform appendix," Journal of Theoretical Biology, 249(4):826-831, 2007
Return to Text
3. Gene Y. Im, et. al., "The Appendix May Protect Against Clostridium difficile Recurrence," JClinical Gastroenterology and Hepatology, 9(12):1072-1077, 2011
Return to Text
4. R. Lewis, Life 3rd ed., WCB/McGraw Hill 1998, p. 395
Return to Text